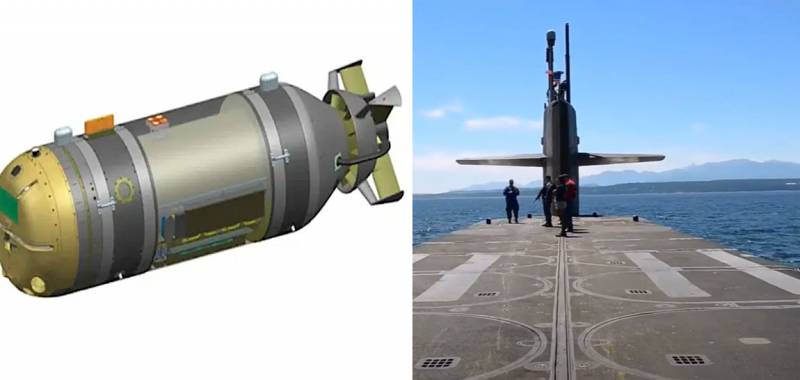 A drone with a likely carrier in the form of the Ohio submarine
The US Navy continues to implement a large-scale project to create an unmanned underwater
fleet
... One of the programs being implemented to date is the Snakehead program.
We are talking about the creation of an unmanned underwater robotic vehicle of large displacement. When created, Snakehead is expected to be the largest underwater drone in the US Navy.
Certain classes of American nuclear submarines will be the carrier of the Snake Head underwater drones. The main task set by the Pentagon by ordering this kind of development is multi-stage. The fact is that Snakehead (according to the terms of reference) will be able to participate in data collection operations, used as underwater means of electronic warfare (electronic warfare).
It is also said that Snakehead will be used to land marines on a certain coast, as well as to deliver combat swimmers to one or another part of the water area. In this case, the American underwater vehicle has all the features of a sabotage drone.
On December 23, the United States issued the final terms of reference for the creation of a large unmanned underwater platform LDUUV. This is the very mentioned Snakehead. Now the US Navy must make its choice on the most suitable, from their point of view, option.
From a US Navy press release:
The Snakehead is a highly durable, multipurpose, high-displacement underwater drone under development, deployable from large open submarine interfaces, with reconfigurable payload capability.
The first such devices are planned to be used "exclusively in reconnaissance missions," however, over time, as already noted, the "Snake Head" is planned to be used for electronic warfare and landing.
Noteworthy is another purpose of the developed robotic American underwater drone. It is indicated in official documents as "work with submarine cables and other types of infrastructure." In this regard, the option of using the Snakehead for sabotage against the mentioned objects cannot be ruled out, given the potential for delivering combat swimmers to the site.