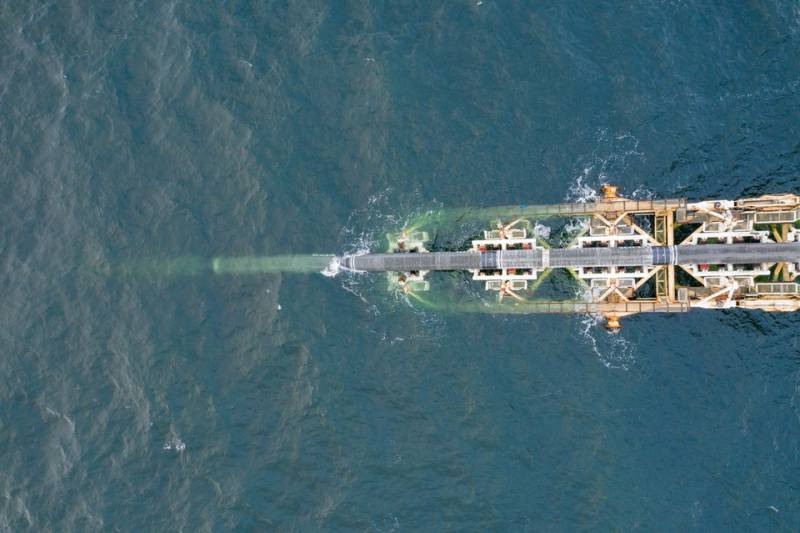 For about two weeks, more than a year after the suspension due to US sanctions, the construction of the Nord Stream 2 gas pipeline in the German section continued. Today it became known that this part of the construction is fully completed. The work was carried out by the Russian pipe-laying vessel Fortuna. In total, about 3 km of pipes were laid in the German section at an average depth of about 30 m along the bottom of the Baltic Sea.
Now the only plot remains unrealized - the Danish one. Earlier, we recall that Denmark, after lengthy bans and restrictions, still issued a permit to lay a gas pipeline in its waters.
It is known that at the moment it remains to lay about 147 km of the pipe - in the Danish offshore section.
In open sources in this regard, it is reported that the resumption of work on this construction site will take place in January 2021. At the same time, there are no predictions about when exactly the construction of Nord Stream 2 will be completed.
The "Fortuna" vessel is not one of the vessels that carry out offshore pipe-laying by the fastest methods. This suggests that construction may well take months. However, at the same time, the companies implementing the project clearly do not intend to force events.
The reason for this is the existence of contracts signed by Gazprom for pumping gas to Europe via the land route, as well as through the "first" Nord Stream.