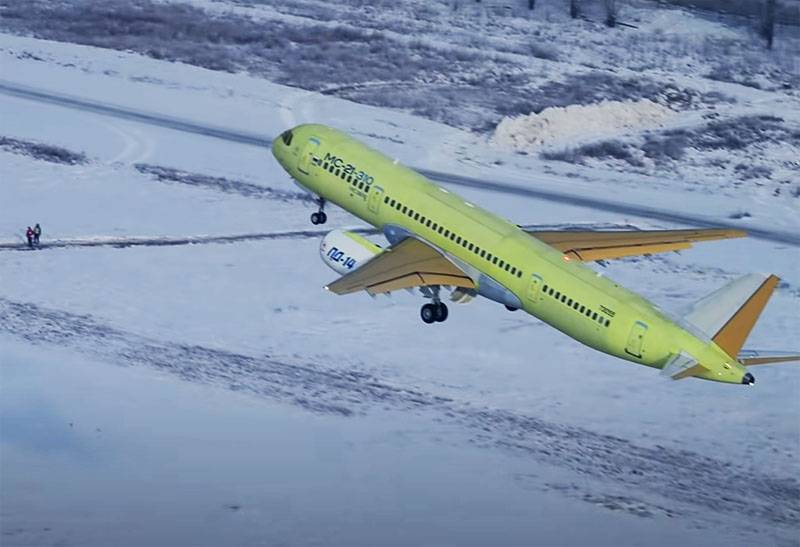 The foreign press comments on the creation in Russia of its own medium-range narrow-body passenger aircraft MS-21. The main reason for analyzing the situation in the Russian civil aircraft industry for foreign experts was the first flight of the MS-21 with a Russian engine. As Voennoye Obozreniye has already reported, the airliner flew in mid-December with a PD-14 turbofan engine.
In this regard, the western
aviation
expert Anthony Angrend writes that he has questions for those who believed that with a vast experience in civil aircraft construction and a developed engineering and design school, Russia would not be able to enter the passenger aviation market.
The expert notes that a de facto intercorporate monopoly of the American Boeing and the European Airbus has developed in the world.
If these companies believed that they would not have new competitors, did not take into account the development of the aviation industry in Russia and China, then they were wrong.
The Russian aviation industry, by developing its own engine, virtually nullifies the effectiveness of possible new anti-Russian sanctions in this area. The sanctions could have worked if Russia continued to consider the only American-made Pratt & Whitney PW21G power plant for the MS-1000. But when the PD-14 from the Perm Motors company appeared, a completely new era began for the Russian aircraft industry.
With the creation of the PD-14, Russia showed that it was written off early.
Permskiye Motory itself notes that many years of experience in large-scale production of D-30, PS-90A engines and their modernization have made it possible to create an aircraft engine of the 5th generation. This engine became the PD-14 for the MS-21 airliner.
The foreign expert community notes that Russia "was early written off from the accounts of the civil aircraft industry." As an example, not only the MS-21, but also the Il-114V, which were created in Russia, are cited, primarily for updating its own aircraft fleet.