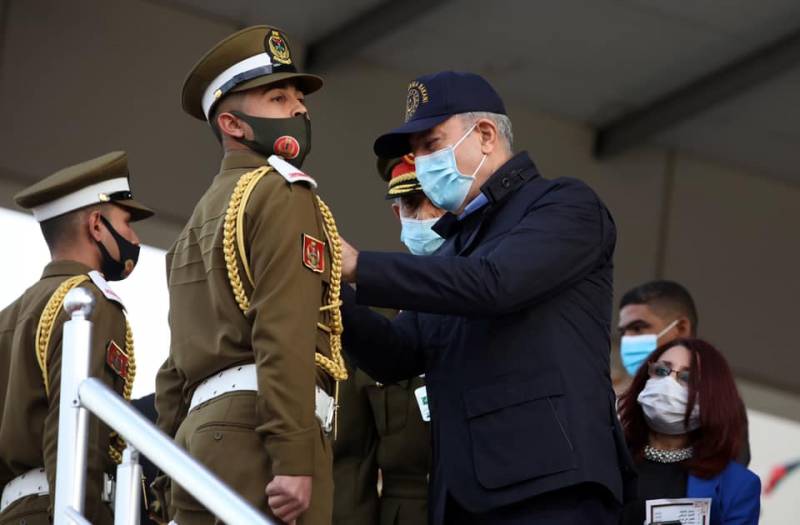 The Turkish Defense Minister, who visited Libya and took part in the graduation ceremony for the military academy cadets (trained by Turkish military instructors), spoke about the statement of Marshal Khalifa Haftar. To begin with, it should be noted that Khalifa Haftar is the commander of the Libyan National Army, and Turkey in Libya supports the forces of the Government of National Unity Fayez Sarraj, opposing the LNA.
Haftar said last week that as long as "the foot of the Turkish military tramples the Libyan soil, there will be no peace on it." According to the marshal, Turkey should withdraw its military contingent from Libya.
Haftar:
We will expel the Turkish military if they do not leave Libya themselves.
Today, Turkish Defense Minister Hulusi Akar, commenting on these words of the Libyan Marshal, said that "Haftar's rebel forces" would become legitimate targets for the Turkish army and its Libyan allies if "Turkish military elements in Libya" attack. Thus, Akar named the option in which the Turkish army, together with the Libyan allies, attack the LNA forces.
Hulusi Acar:
Haftar is a war criminal. He and his henchmen should know that if even one Turkish element in Libya is attacked, Haftar will have nowhere to run.
At the same time, the Turkish Defense Minister did not specify who or what exactly he meant by the term "Turkish elements".
Earlier, Ankara transferred at least several hundred militants from Syria to Libya. A military transport was also used for the transfer.
aviation
Turkey. The active phase of hostilities with the advancement of the NTC forces and pro-Turkish armed formations continued until the announcement of the Egyptian President. Abdel-Fattah al-Sisi said at a certain moment that if the NTC forces move east of the positions occupied at that time, the Egyptian army will enter Libya and stop this advance. After Egypt delivered
tanks
forces of Marshal Haftar, who suffered significant losses in equipment and manpower in battles with Turkish-backed militants and armed formations of the PNS.