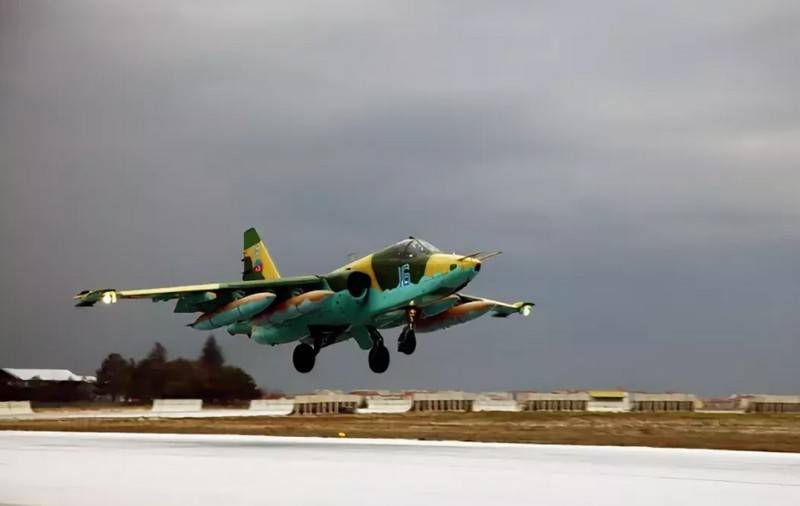 In Baku, they told about the losses of a manned
aviation
during the conflict in Nagorno-Karabakh. According to local media reports, the Azerbaijani Air Force lost one combat aircraft.
According to the publication, from the very beginning of the military conflict in Nagorno-Karabakh, the Azerbaijani Air Force used Su-25 attack aircraft, destroying not only armored vehicles, artillery and enemy personnel, but also modern air defense systems purchased by Armenia before the conflict.
During the conflict from September 27 to November 9, 2020, the Air Force lost only one Su-25, hit by the Armenian air defense on October 4, 2020 near Jabrayil. Colonel Zaur Nudiraliyev, piloted by attack aircraft, was killed.
On October 4, Zaur Nudiraliyev, in his SU-25, approached the target assigned to him in the direction of Jebrail. At this moment, the central command post received information about the actions of enemy air defense systems. (...) At this time, Zaur Nudiraliyev had already hit his target and was returning back. After that, he stopped communicating. His plane had already been shot down. Despite his injury, the colonel could still eject. But he did not do this in order not to be captured. Having sacrificed his life, he sent the plane to the area where enemy forces and equipment were concentrated and died heroically
- said Lieutenant Colonel Elchin Mammadov.
In total, during the conflict, Air Force pilots flew over 600 sorties, destroying a large number of enemy equipment and personnel.
It should be noted that the Ministry of Defense of Azerbaijan until mid-October denied the use of manned aircraft in Nagorno-Karabakh, and did not recognize the loss of an attack aircraft shot down by the Armenian air defense until the end of the military conflict, calling it a fake by the Armenian media.