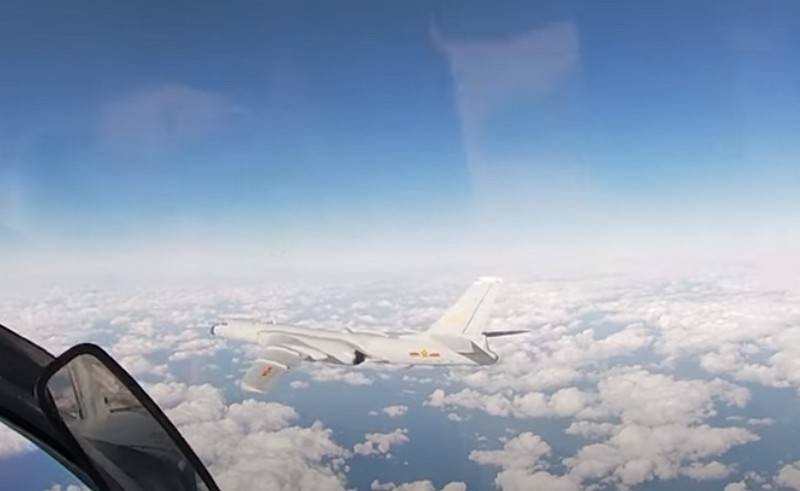 After a joint patrol of Russian and Chinese strategists in the Asia-Pacific region, China compared the Hung-6 strategic bombers with their Russian and American counterparts. The Hong Kong edition of the South China Morning Post writes about it.
According to Chinese military experts, the joint patrolling of two Tu-95MS of the RF Aerospace Forces and four Hun-6K PLA over the waters of the Sea of ​​Japan and the East China showed the shortcomings of the Chinese bombers. Compared to their Russian counterparts, Chinese bombers have a shorter flight range and payload.
Despite the fact that the PLA is armed with 160 to 180 Hong-6 bombers, considered modern aircraft in China, their capabilities do not reach Russian or American long-range bombers. The Khun-6 has a range of 6 thousand km and a wing loading of 160 kg / m2, while the Russian strategist Tu-95MS has 15 thousand kilometers and 606 kg / m2, Tu-160 has 12300 kilometers with a wing loading of 724 kg / m2, American B-1 "Lancer" - 9400 kilometers and 820 kg / m2.
In addition, only the latest version of the Hun-6N bomber has the ability to refuel in the air.
The Chinese bomber Hun-6 is based on the old Russian Tu-16 Barsuk bomber, which was commissioned in the 50s. Although China has modernized it, it is still the old model. Chinese bombers cannot fly as far without refueling and carry the same cargo as Russian and American bombers
- said John Grevatt, military aircraft specialist and defense analyst in the Asia-Pacific region for the defense industry at Janes.
At the same time, experts say China is developing a next-generation strategic bomber, the Hun-20. This stealth subsonic bomber is expected to give China new capabilities and expand its reach.
According to available information, the Hun-20 will be able to carry four supersonic or stealth cruise missiles. The estimated flight range of the new strategist is about eight and a half thousand kilometers, the payload is 45 tons.