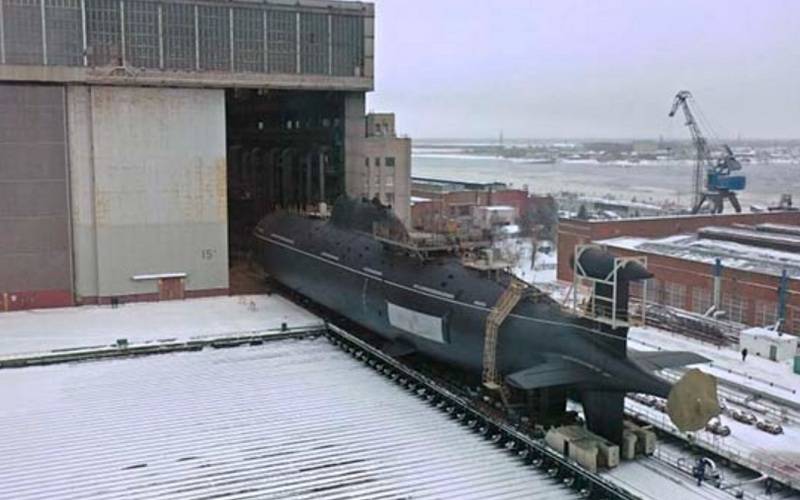 The modernized nuclear submarine "Leopard" of project 971 was launched in Severodvinsk, the slipway stage of the submarine repair is completed. This was reported by the press service of the Ministry of Defense with reference to a statement by the Commander-in-Chief of the Navy Nikolai Evmenov.
According to the report, on December 25, 2020, the Leopard nuclear submarine was withdrawn from the boathouse of the Zvezdochka ship repair center in Severodvinsk for further work at the enterprise's pier.
The nuclear submarine "Leopard" became the first ship of the third generation, medium repair and deep modernization of which is carried out at the shipyard of the Severodvinsk ship repair center "Zvyozdochka" as part of the program to maintain the required level of combat readiness of the group of multipurpose nuclear submarines of the Naval
Fleet
- quotes the Ministry of Defense of the words of the commander-in-chief of the Navy.
At the moment, the submarine has carried out the replacement of electronic weapons, control systems, communications, navigation, hydroacoustics, and BIUS. The submarine received new weapons (KR "Caliber"), and the acoustic signature was also reduced. The timing of the return to the fleet has not yet been announced.
The K-328 "Leopard" multipurpose nuclear submarine of the Northern Fleet was laid down at Sevmash on October 26, 1988, launched on June 28, 1992, and entered the fleet on February 5, 1993. I arrived at Zvezdochka at the end of June 2011. In May 2012, the ship was placed in a boathouse and equipment dismantling began on it. In 2014, it was reported about plans to complete work on the submarine in 2015, but the work initially went behind schedule due to a delay in documentation from the designer of the SPMBM "Malachite".
It is part of the 24th "Animal Division" of the Northern Fleet of the Navy. In addition to the Leopard, the division also includes the Tiger, Vepr, Panther, Wolf, and Cheetah submarines.