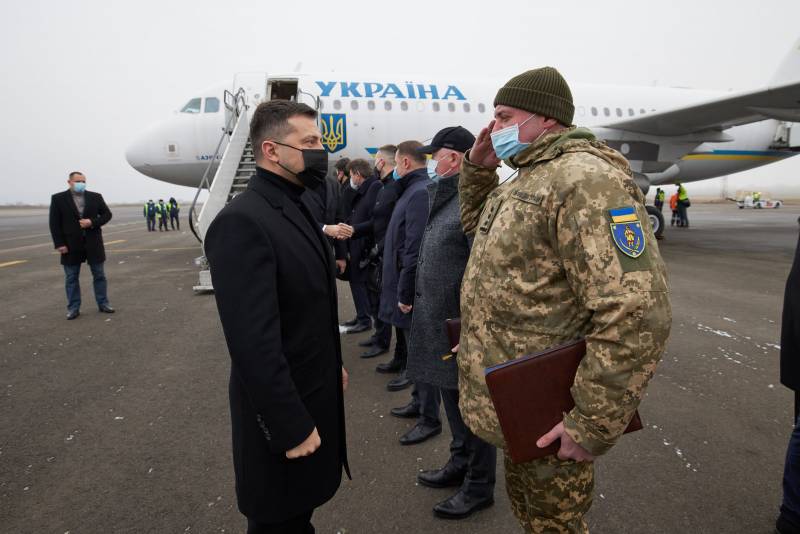 The President of Ukraine gives interviews to the local media at the end of the year. In one of the interviews, the topic turned to the Minsk Agreements. Let us recall that Kiev has not actually complied with these agreements since the day they were signed. One of the gross violations of the agreements was recorded by the OSCE special mission a few days ago. In particular, it was indicated that there are no more than 90
tanks
armed forces of Ukraine. The Ministry of Defense of Ukraine does not explain where exactly they were deployed to the Armed Forces.
The Ukrainian president was asked how the authorities plan to act further in relation to the Minsk agreements. Volodymyr Zelenskyy said to this that the country cannot unilaterally withdraw from these agreements, since "they are tied to the preservation of sanctions against Russia."
At the same time, Zelensky added:
In the event of our withdrawal, the Europeans can lift sanctions restrictions from Russia, as well as from representatives of ORDLO (special areas of Donetsk and Luhansk regions - as they call the LPR in Kiev). But personally I would go out ...
This statement by Zelensky itself suggests that he has neither the political will nor the desire for the conflict in Donbass to be resolved in a truly peaceful way. After all, Ukraine's withdrawal from the Minsk agreements would actually mean the resumption of full-scale hostilities. And when Zelensky ran for the post of Ukrainian president, he promised foreign partners to fulfill the letter of the Minsk agreements and end the conflict in Donbass as soon as possible, blaming Poroshenko for not doing anything like that.
In an interview, Zelensky also added that "sick diplomacy" is taking place today:
But it's too early to talk about plan B.
Let's remind that under the plan B in Ukraine we mean the option of force in relation to the republics of Donbass.