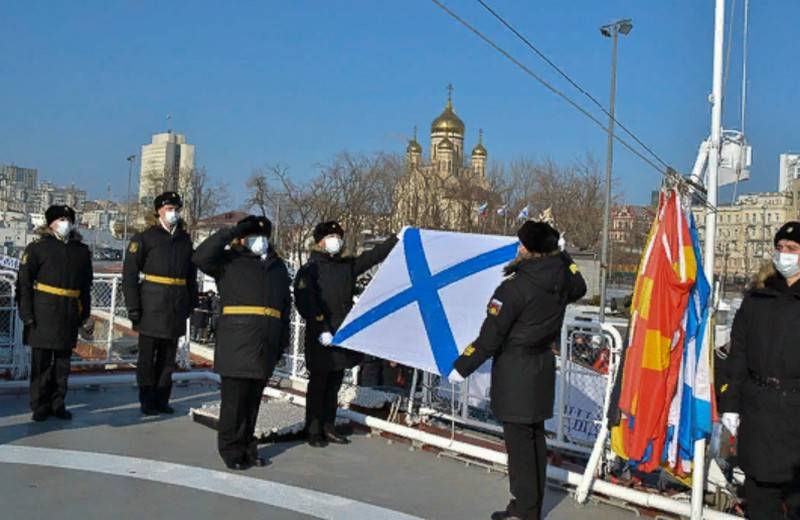 The newest corvette of project 20380 "Hero of the Russian Federation Aldar Tsydenzhapov" raised the St. Andrew's flag. Solemn ceremony of transferring the ship to the Pacific
fleet
took place on the Korabelnaya embankment of Vladivostok. This was reported by the press service of the Ministry of Defense.
After the signing of the acceptance certificate and the raising of the Andreevsky flag, the corvette, on the basis of the order of the Commander-in-Chief of the Navy, was included in the combat strength of the Pacific Fleet.
The solemn ceremony was attended by the commander of the Pacific Fleet Admiral Sergey Avakyants, representatives of the Amur shipyard, veterans of the Navy, parents and relatives of the Hero of Russia sailor Aldar Tsydenzhapov, who at the cost of his life 10 years ago saved the crew of the Bystry destroyer from death.
The project 20380 corvette "Hero of the Russian Federation Aldar Tsydenzhapov" was laid down in Komsomolsk-on-Amur on July 22, 2015, on September 12, 2019, brought out of the boathouse into the outfitting and transport-launching floating dock, on October 21, 2019, physically launched from the dock. On May 25, 2020, it entered the Zeya transport floating dock for transportation to Vladivostok, where it was delivered in mid-June. The ship entered the factory running and state tests at the end of September.
In the Russian Navy, project 20380 corvettes are classified as multi-purpose combat surface ships of the 2nd rank of the near sea zone. They were developed by the Almaz design bureau.
Features of the ships of this project are compactness, stealth, high percentage of systems automation. The project 20380 actively uses the principle of modular architecture. The ship can carry the Ka-27 anti-submarine helicopter.