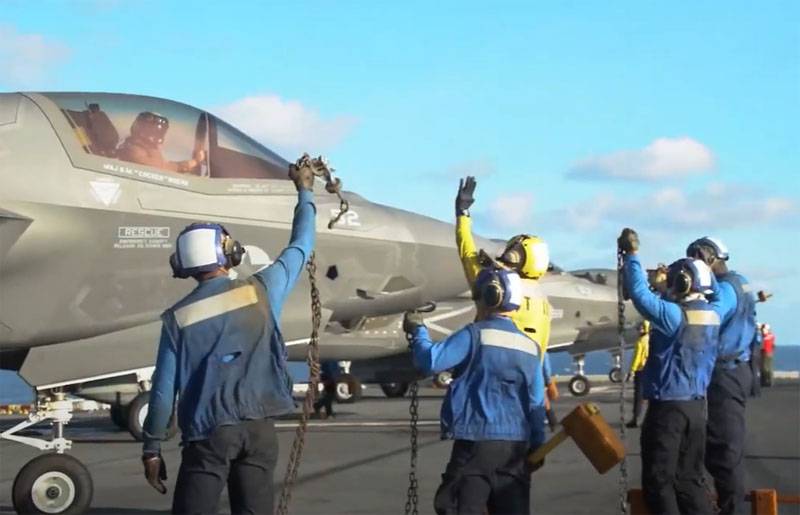 The American operation to withdraw its contingent from Somalia continues. As Voennoye Obozreniye has already reported, a whole armada of means is involved in the withdrawal of 650 military personnel who are officially in Somalia, including universal amphibious ships, military transporters, convertiplanes and floating bases. Moreover, the US command also issued an order to practice the conduct of hostilities with the use of deck
aviation
.
For this, the fifth generation fighters F-35 are involved, which are part of the UDC USS Makin Island air wing of the Wasp class.
F-35B fighters took off from the ship off the coast of Somalia and carried out the use of standard weapons in the water area of ​​the maneuvers. In particular, the F-35B pilots used aircraft cannons. Missile weapons, at least judging by the fragment of the presented video, did not use US Navy fighters off the coast of Somalia.
The US military command notes that the carrier-based aircraft "provides direct support for the Octave Quartz operation, which the US military is completing in Somalia." This operation was originally aimed at combating international terrorism. However, Washington no longer speaks of success in this struggle.
Earlier it was reported that some of the troops from Somalia would be withdrawn by the United States to the state of Djibouti, and some would be returned to the United States. In the state of Djibouti, in addition to the American military base, the PRC base is also located. This neighborhood clearly haunts the Pentagon. The United States has repeatedly tried to put pressure on the Djiboutian authorities to deny Beijing any further military presence. But the government of Djibouti does not agree to this.