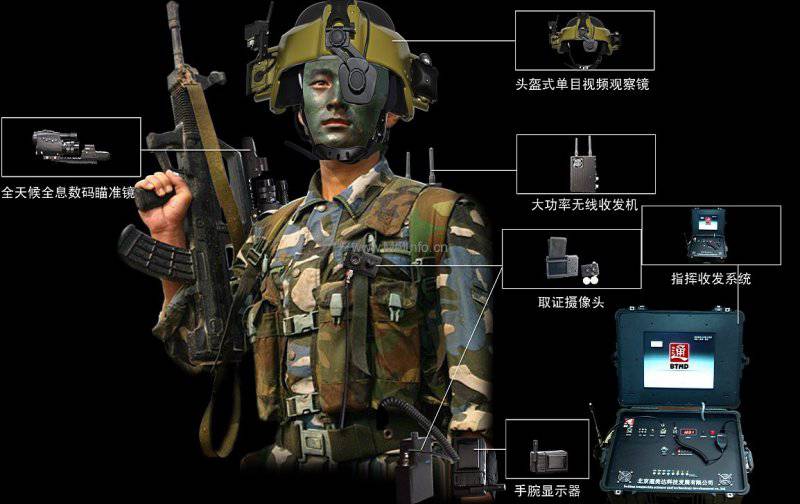 An article in Jiefangjun Bao reports that in one of the PLA brigades, soldiers began to be equipped with individual communicators, which made it possible to keep in touch at the tactical level, as well as provide guidance
aviation
and artillery. The following is an abridged translation.
"In the middle of summer, in one of the army groups of the Shenyang Military District, exercises with the use of information systems were in full swing. The senior sergeant of one of the regiments, Yang Shaoming, having approached the "blue" positions for reconnaissance, transmitted over a dozen reconnaissance messages directly to the command center of the army group using his digital terminal. "
"So that a fighter of a particular company could transmit information directly to the command of an army group - we could not even imagine such a thing before," Yang Shaoming told a correspondent. "Previously, intelligence information should have been reported to the platoon leader, company commander, and then transferred to a higher level by them."
"Previously, a fighter who did not have clear data about his location turned into an extra on exercises. Now he can even share new information from his map of the area with the brigade commander. "
"In combat, the headquarters of this brigade uses an integrated control platform that allows you to process and analyze hundreds of incoming intelligence messages, while creating a map of the combat area."
"One fighter sneaks deep into the enemy's lair and leads combat aircraft that accurately hit important targets one by one. Such shots often appear in foreign films about war. Now the same scene is played on the range of this army group. "
"In the middle of the night, Sergeant Xiao Ban secretly penetrates the forward positions of the Blue and conducts reconnaissance. Having found two important targets, he quickly enters target data into the terminal and presses the "send" button, the information is immediately transmitted to the terminal of the Air Force bomber pilot.
"The goals are confirmed," the pilot responds. The correspondent saw that two strike aircraft very quickly appeared, which dropped 4 high-precision guided bombs. At the same instant, the target is turned into ashes. Xiao Ban says: "Previously, there was no direct connection between ground forces and the air force: not that a single soldier could not control the actions of aviation, but even the commanders of brigades and divisions could not directly command combat aircraft."
"Individual communicators (literally: individual communication and control systems - note P.2) allow an individual soldier to communicate with air combat platforms, independently interact and carry out joint combat training and touch on the professional aspects of other arms of the armed forces - the possibilities for conducting combined operations have risen to a new height. "
"When a particular soldier got the opportunity to independently direct combat aircraft" to the point ", the military's many years of dream came true, and the combat training underwent huge changes. Xiao Bang told the reporter that now the need to promptly call for air support is firmly entrenched in the minds of soldiers and officers. "
"Following this, after a motorized infantry battalion, during an offensive, encountered strong fire resistance from the" blue ", the battalion commander Wang Qing, using his digital terminal, launched combat helicopters that delivered an accurate fire attack on the target. Very quickly, two patrolling helicopter gunships arrived at the target area. With hissing sounds, the NAR series rushed to the target, the "blue" fire weapons were destroyed. "