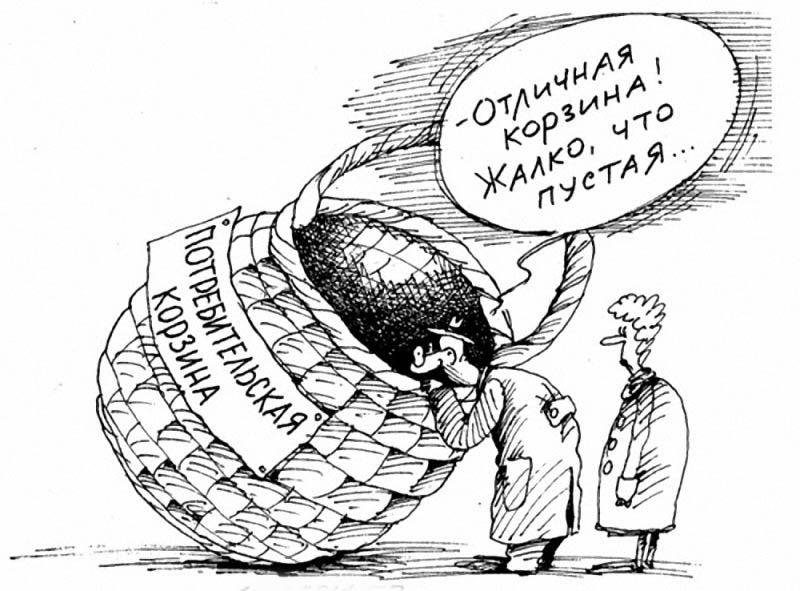 Or maybe the prices are up against Covid?
I would like to warn readers not to look for deep analysis and reasoning about the macroeconomic reasons for the rise in prices in this article. I will confine myself to the on-duty statement that the beautiful inflation figures that are reported to us from the Central Bank, the Ministry of Finance and the Federal State Statistics Service have never agreed with what people see on the shelves of stores, and even more so - of markets.
The rise in prices for socially significant goods has always been, shall we say, tangible and felt much faster and stronger than anything else. And what does it matter to people with a small and even average income to the point that somewhere the price of iPhones or Maybachs has fallen sharply.
It is more important for them how much sausage and potatoes cost, and, sorry, vodka. However, on New Year's Eve, prices for champagne are of concern. Fortunately, nowadays it is not in short supply, as it once happened, and it was not at all a pity to pay someone a five or even a chervonets (full-fledged Soviet) for the coveted bottle of Sovetskoye.
Interestingly, unlike large departments, the Analytical Center under the Government of the Russian Federation did not promise Russians anything good with the main prices even before the two waves of coronavirus (see graph).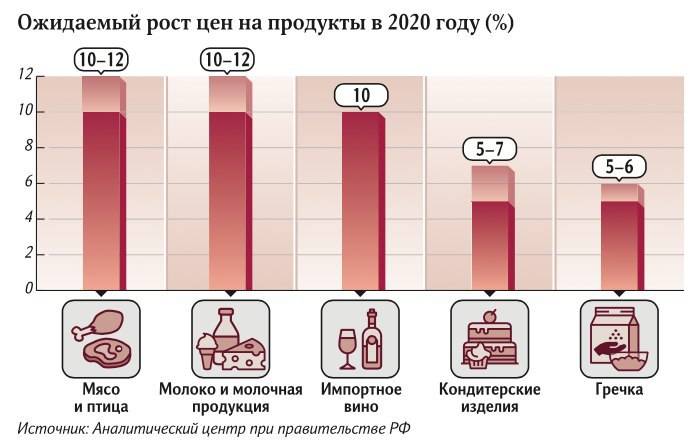 As you can see, there was no place for bread or champagne in the layouts of the experts, but it didn't make it any easier. And besides, all the indicators were badly spoiled by the damned SARS-CoV-2 - a coronavirus, ready to mutate almost indefinitely. Although a lot can now be attributed to covid.
Did the prices go away too?
Personally, it seems to me that viral hysteria in reality simply distracts from real social, environmental and other problems. As once cinema in the West. And one of the factors that now dictate the prices of goods from the grocery basket is not by chance self-isolation.
First, it is massive, now it is generally limited, but the demand for food delivery is supporting. And online shoppers are a special kind of public. But I will not blame these people for all our problems.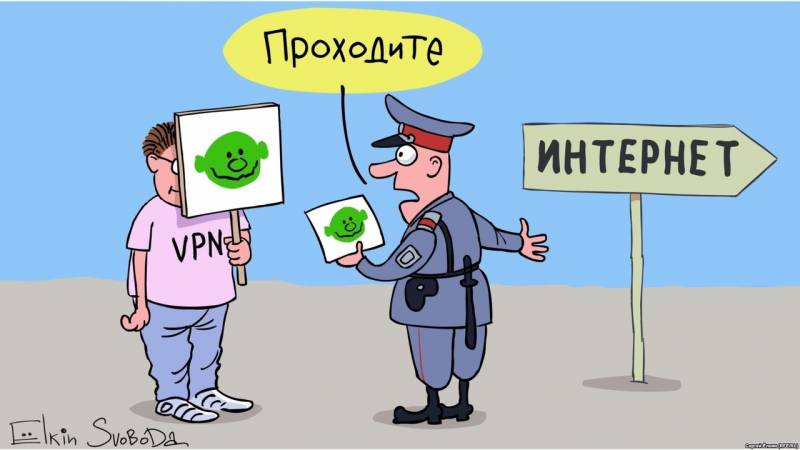 They also provided many jobs, and not only from among the migrant workers. Students and even some of the schoolchildren saddled their bicycles and put on multi-colored backpacks with heating or, conversely, with cooling.
It is not easy to say how much more expensive take-away products can influence the rise in prices in regular retail. But it does - there is no doubt about it. And it affects negatively.
The reduction in the assortment and the washing out of cheap products both in supermarkets and in small stores has been noticed by many and almost everywhere. There is no need to talk about markets in this regard. By the way, in Moscow, which is very expensive, traditional collective farm markets from the "former times" can now be counted on one hand.
Not so long ago I had to get acquainted with the new capital "Central Market". Someone smartly relocated him from the Nikulinsky circus a little closer to the center - to Trubnaya Square. It is now a cross between Chinatown and a food court in a large mall.
And it was actually built on the place where in the distant years the pub at the exit from the gangster Grachevka was replaced by a public toilet next to the tram circle, or rather, a semicircle. "Tsentralny" in its modern edition practically does not resemble its famous predecessor in almost anything (especially with prices for habitually market goods).
Meanwhile, the public not only in Moscow, continues to suffer for restaurants and cafes, many of which Rospotrebnadzor is about to close for the holidays. But there you have to pay for "all the same" almost exorbitantly. So, maybe it's not a matter of remote control at all?
It's not about the price, it's about the cost
Food prices are a litmus test of the state of agriculture. We have been convinced for many years that it is on the rise. But why, then, are prices on a continuous rise, and a village in the outback is quietly dying out.
They are rescued by migrant workers of a different kind - rural ones, where the leading roles are not Central Asians and Caucasians, but Koreans and other guests from afar. And also - neighbors in the former USSR, who have everything in order with the cost price. Those who have access to markets that are far enough from industrial centers know very well that prices there are several times lower, especially with bulk purchases.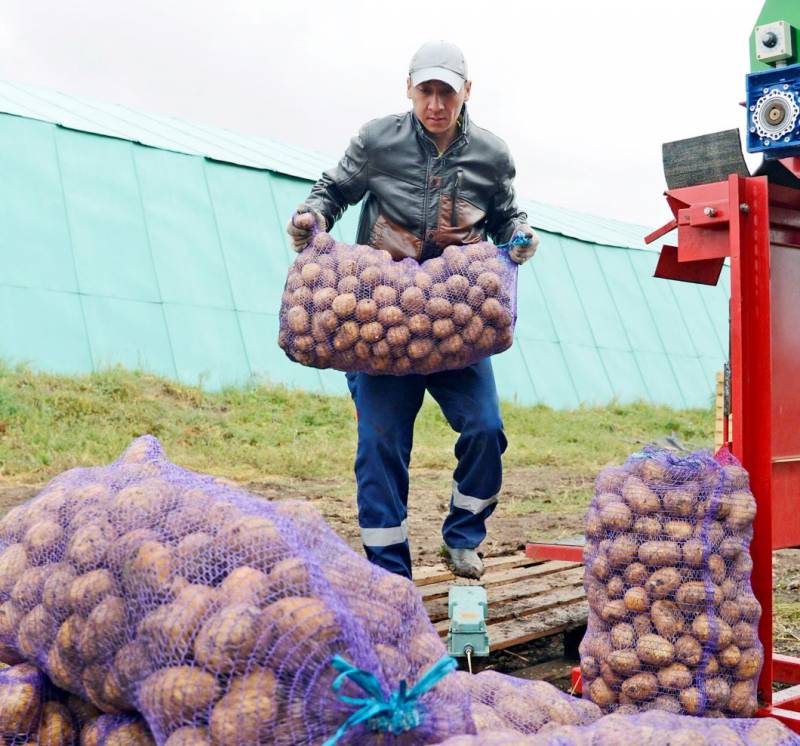 And in capitals and large cities, surrounded by cordons, "robbed", including in uniform, the low cost of agricultural products on the price tags is not reflected in any way. Now there is a persistent feeling that large buyers from the food industry have actually brought rural producers to their knees.
In any case, sales are necessary for them, and a lot, unlike, for example, grain, you simply cannot put in the bins. And if this was somehow reflected on the shelves, a lot could be endured.
Sugar and butter are not bread or meat
At the end of the pandemic 2020, the first thing to do was to raise the price of sugar. Everything is not difficult here - people need to sweeten the eerie realities with a closed border, closed cafes and restaurants. And it doesn't matter that someone will cook cakes and pastries at home, and someone will shop through the network. If there is demand, there is also an increase in prices.
Sugar followed with its jump in prices, followed by butter. Vegetable is not creamy, where Belarusian supplies prevent domestic producers from roaming around, who have been caught in cartel agreements more than once.
With butter, too, everything is transparent - the demand is almost peak: both for baking and for salads you need olive, sunflower, and even sesame with hemp. Where the latter is obtained from is a mystery, but this is so, by the way I had to.
Now all the media are convincing us that both sugar and butter have fallen in price, but this is hard to believe. I saw such a cute layout somewhere in the networks or on provincial resources. The product is not important.
So:
"It was 85, now it is 130, and now they can hardly get even for 100? Think for yourself - has it fallen in price by 30 rubles, or has it still risen in price by 15? "
For those who report to the top, of course, "cheaper" is preferable.
I wrote about bread and meat above for a reason - they also do not get cheaper, but no one will shout about it. We tolerate. And we will endure until it goes off scale completely.
A real rise in prices due to the fall in the ruble exchange rate, postponed for now, will happen as soon as everything starts to move. And not only I do not doubt this, but practically all experts. They have a word.
They don't argue about prices
She promised not to go deep into analytics, but I have to. Retail prices don't just depend on what the wholesalers offer. The latter would definitely be happy to trim everything under the rising dollar. As they say, nothing personal - just business.
However, over the years of sanctions and trade wars through import substitution, the import component in prices for what people most need was still managed to drop significantly below 30-40 percent. Hence the conclusion - an increase in the exchange rate even by 25-30 percent should not respond on the shelves by more than 10-12 percent.
Pay attention - this is exactly what scientists predicted for 2020. So we have to come to terms, although the fallen demand could make producers, wholesalers and retailers move.
But on New Year's Eve, demand has almost recovered, largely due to the fact that people stay home, and simply have to buy in full. Experts hardly dispute whether prices will continue to rise. Will stop after the holidays, but not for long.
Many in general come up with the idea of ​​introducing ration cards, God forbid us from such a misfortune. But the State Duma has already made it clear that
"In those business segments that are tied to food, food",
all the rest are simply recouped.
So, Nikolay Kalmykov, an expert of the parliamentary committee on economic policy, believes that thus traders
"They use the advantageous position of the grocery sector, which will not remain without demand. And it is precisely from the grocery sector that they are "trying to get lost profits."
Finally, I will allow myself one more "macroeconomic" paradox. In Russia, unlike the rest of the world, where it is believed that
"Expensive dollar means cheap products",
with the growth of the American currency, everything, on the contrary, only becomes more expensive. And what goes on the shelves, and, of course, gasoline.
How could it be otherwise, but this is a separate topic.