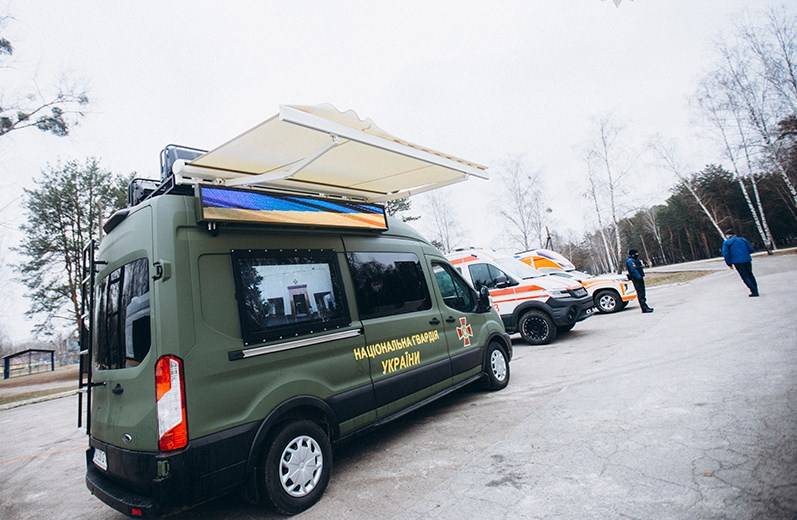 Considering the importance of informational, and in fact, propaganda, pumping of personnel and civilians, the National Guard of Ukraine is acquiring propaganda vehicles "according to NATO standards." Similar equipment is in service with military units in the countries of the North Atlantic bloc.
This was reported by the press service of the NSU.
These information and propaganda complexes were developed by the image and publishing center with the support of the command of the National Guard of Ukraine. It is designed for information and recruiting activities.
The complex was created on the chassis of a Ford Transit car and includes many elements to facilitate the information activities of the National Guard of Ukraine. In particular, the mobile complex is equipped with modern digital elements and is equipped with a laptop, all-weather sound speakers, TV, multifunctional printing device, microphones and other equipment.
The car will be used to accompany the activities of personnel during measures to protect public order, information support for the civilian population in case of emergencies, during recruiting activities, as well as for information support of units of the National Guard of Ukraine.
- said the head of the information support department of the image and publishing center of NSU, Colonel Viktor Golumbovsky.
Cars of this kind in NATO countries are used, among other things, for propaganda purposes: broadcasting a certain kind of information (or disinformation) to a particular audience. It can be assumed that NSU is going to use loudspeakers of campaign vehicles in Donbass for propaganda purposes.
Looking at this car, for some reason, I recall the old comedy action movie with Jackie Chan's participation "Diner on Wheels".