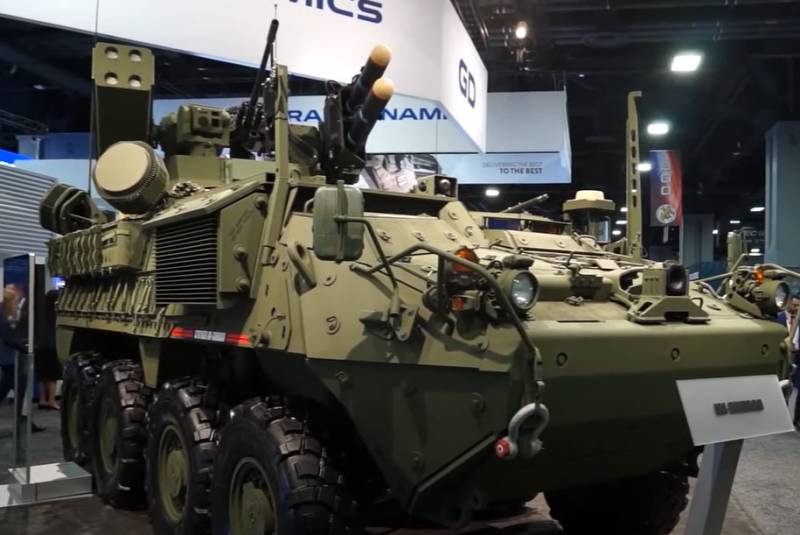 In the United States, they announced the beginning of preparations for testing the updated Stryker armored personnel carriers. These tests were planned to begin earlier, but the sanitary-epidemic situation made adjustments. The Strikers' update is that they are equipped with a combat laser
weapon
... It is argued that the Stryker armored personnel carrier with laser cannons should eventually become part of the short-range air defense forces. In particular, the power of a combat laser (DE-SHORAD) may be sufficient, for example, to destroy small unmanned aerial vehicles that do not have a high speed of movement.
For these
news
seized on in Poland. So, the columnist Jakub Palowski writes about "the likelihood that the Stryker armored personnel carrier with laser cannons will be deployed in Poland." According to the Polish observer, the United States may deliver them for testing on Polish territory.
This assumption was made on the basis of the fact that the Americans had previously announced their readiness to transfer several armored personnel carriers to Poland. At the same time, we were not talking about any specific variants of armored vehicles. But the Polish press decided to speculate behind the American command, expressing the idea that it was the Strykers with US laser installations that would be sent to Poland for testing.
Earlier in the United States, it was noted that in addition to countering light low-speed UAVs, promising laser weapons on Strykers will be used against artillery shells and mortar mines. At the same time, it is planned to use a new computer system for calculating the flight trajectories of one or another ammunition in order to correct the effects of a laser beam on a target. The question of how effective this effect can be, for example, against an 82-mm mine, is still an open question.
The US command plans to integrate the capabilities of the Stryker armored personnel carrier, equipped with a DE-SHORAD combat laser, with the M1097 Avenger short-range self-propelled air defense system to improve the air defense system of specific objects.
Let us remind you that the first country in the world in which military lasers were adopted is Russia. We are talking about the Peresvet complexes.