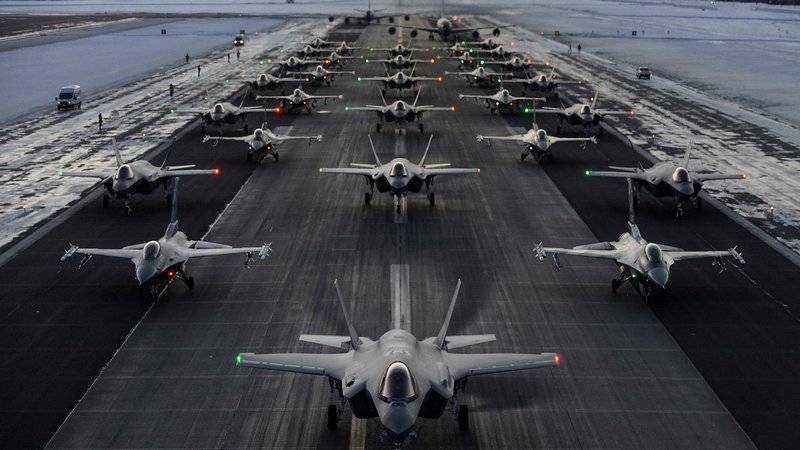 The US Air Force conducted a tactical exercise at Eilson Air Force Base in Alaska, practicing a maneuver called Elephant Walk. This was reported on Twitter of the airbase.
The exercises involved 18 fifth-generation F-35A fighters, 12 F-16 Fighting Falcon multifunctional light fighters and two KC-135 Stratotankers from the airbase. As part of the exercise, the readiness of the United States Air Force aircraft was tested for rapid response, and the "superiority of the American
aviation
in this region ".
In turn, according to the Daily Mail, the exercises were held after the activation of long-range aviation of the Russian Aerospace Forces and the PLA Air Force, whose strategic bombers conducted joint patrols in the Asia-Pacific region. In addition, according to the newspaper, the United States is very concerned about the deployment of Russian high-altitude interceptors MiG-31 near the American borders, which have already repeatedly "intercepted" American reconnaissance aircraft in the area.
The "Elephant Walk" maneuver is one of the military exercises in which the squadron control of aircraft is worked out in close formation, when the fighter jets take off at intervals of 20-40 seconds. Such a construction and take-off are being worked out in the event of real hostilities, when it is necessary to fly as many planes as possible in a short period of time.
Last year, the US Air Force completed an elephant ride at Elmendorf Air Force Base in Alaska, flying 24 F-22 fighters, as well as Boeing E-3 Sentry and C-17 Globemaster III aircraft.