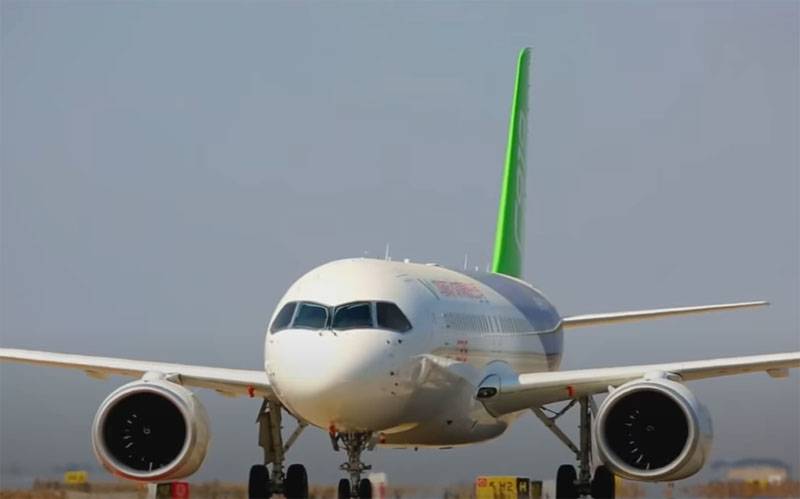 Chinese media are heading for a test flight of a C919 passenger airliner at Wuhan International Airport. This is a narrow-body passenger aircraft from COMAC, which has a maximum capacity of 190 passenger seats.
It is noted that this is the first flight of the C919 outside the flight center of the manufacturer in Shanghai. We are talking about Shanghai Pudong Airport. The Shanghai-Wuhan flight is planned as the first flight of such a plan for a Chinese aircraft.
From a Chinese press report:
We are one step closer to obtaining a certificate of airworthiness. As a result, this will make it possible to squeeze out the de facto established intercorporate American-European monopoly on the world market.
The point is that in China I position the airliner as the main competitor for Boeing and Airbus aircraft. For example, the Chinese C919 was initially billed as a competitor to the American Boeing 737 MAX, which has had problems in recent years. The C919 is also considered a competitor for the MS-21 passenger aircraft being created in Russia.
Chinese press:
Tests of the aircraft outside the factory center indicate the high reliability of the aircraft and its readiness to switch to its serial production. In total, the manufacturing company already has over 600 applications for C919. This number of applications is also due to its low price relative to competitors. It is about 1,6 times cheaper than the Airbus A320.
Recall that a few days earlier in Russia, an MS-21 flight took place with the first production PD-14 engines of domestic production.