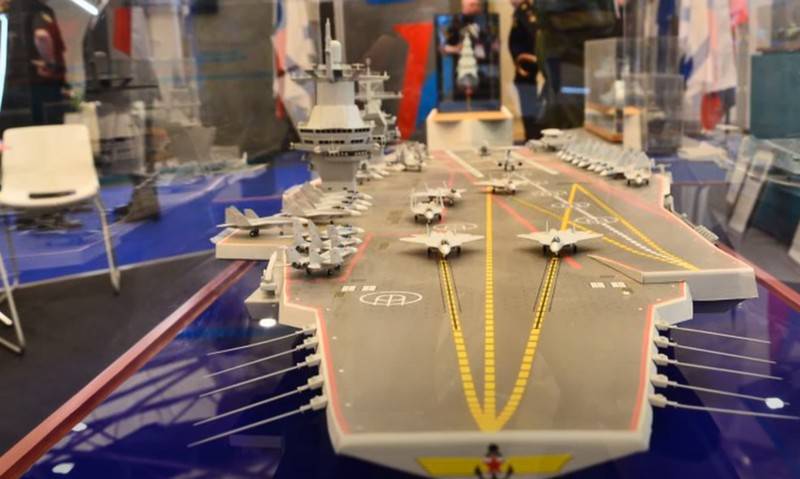 The construction of a new aircraft carrier for the Russian Navy is planned to be carried out at Sevmash. This was announced on Tuesday by the general director of USC Alexei Rakhmanov.
In an interview with the Russia-24 TV channel, he said that the United Shipbuilding Company expects to build a new aircraft carrier at Sevmash, since this enterprise already has experience in building such ships. To start construction, only the decision of the Ministry of Defense is needed.
As soon as the Ministry of Defense makes a decision, we are ready to immediately take on its design and construction. Building an aircraft carrier for India shows that we have experience. This experience is concentrated at the Sevmash plant, and it is there that we expect to build an aircraft carrier if it is ordered by the military department
- explained Rakhmanov.
Earlier, a source in the defense industry complex said that the state armaments program for the period until 2027 does not provide funds for a new aircraft carrier, although construction projects already exist.
According to the concept, the promising Russian aircraft carrier will have a displacement of 65 thousand to 70 thousand tons. Two projects are currently being considered. The first is the aircraft carrier Manatee, which was presented by the Nevsky Design Bureau. The displacement of this aircraft carrier is up to 90 thousand tons. Its dimensions make it possible to accommodate an air wing of 60 aircraft and helicopters and a dozen drones on the ship.
The second project is the nuclear-powered aircraft carrier "Storm", proposed by the Krylov State Scientific Center. The ship's displacement should reach 100 thousand tons, length - up to 330 meters, maximum speed - 30 knots. The aircraft carrier is expected to accommodate 80–90 aircraft.
It is possible that there are other projects of promising aircraft carriers, but information about them is not provided to the general public.