The coat of arms of Australia is one of the richest animals in the image. It consists of the coats of arms of the states, which also depict animals and birds, and the supporters - an ostrich and a kangaroo, did not fall on it by accident either: it is argued that these animals were chosen because they cannot move backward, but only forward - and by this they symbolize progress. Although they can, of course, but they rarely do it ... The coat of arms also depicts a golden lion in a red cross, a red lion, a black swan and a shrike bird
I found, friends, I found
Who is the stupid culprit
Our calamities, our evils.
The stamp is to blame for everything,
Bilingual, two-headed,
Our all-Russian eagle.

I will refer to the popular word,
To the great wisdom of the ages:
Two-head - emblem, base
All murderers, idiots, thieves.
Without entering into disputes with fools,
With embarrassing speeches,
How many times have you said yourself:
"You're talking about two heads!"

(Vasily Kurochkin. "Double-headed eagle")
Coats of arms and heraldry.
Early heraldry was very simple: mostly simple geometric patterns (to facilitate identification from a distance). But animals, birds, and various monsters on shields and flags appeared long before the appearance of heraldry itself. Think of the dragons on the shields of the Bayesian warriors, for example. And in ancient Greece, the Athenians had an owl as a symbol of their city and was minted on coins. The Bible does give direct instructions for action: "Each person from the children of Israel will choose his own standard with the sign of the father's house" (Numbers, 2: 2), and as a result, out of 12 tribes of the people of Israel, almost half of them chose images of animals as their symbols ... It is not without reason that it is said that "bad examples are contagious," so the animals became emblems on the flags of the Turanian and Iranian knights, which we have already read about in an excerpt from "Shah-name", and then on the coats of arms of European seniors. And what kind of animals are not there ...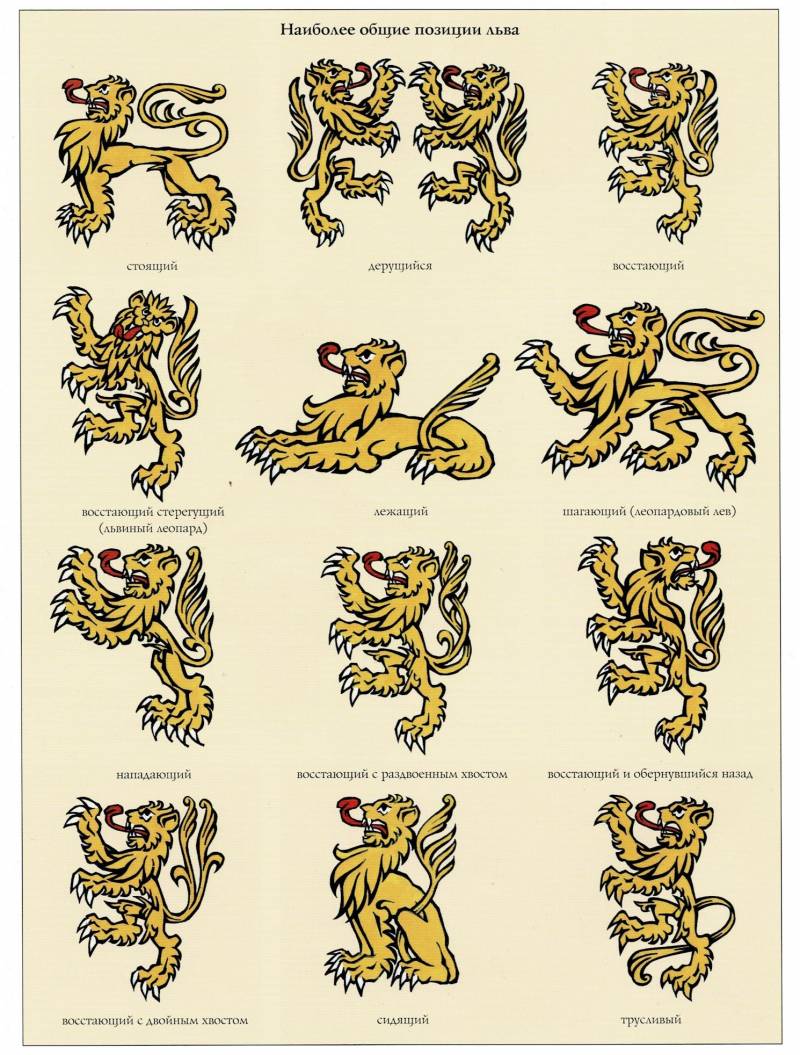 Types of heraldic lions. Illustration from Stephen Slater's book "Heraldry. Illustrated Encyclopedia ", Eksmo, 2006, S. 83.
The most popular beast ...
Lions, of course, rank first in popularity. Moreover, judging by the coat of arms of Geoffroy, Count of Anjou, knighted in 1127, it was the lion that was the first heraldic beast. Since there is only one lion, and there are many coats of arms, "positions" were invented, that is, changes in the poses and appearance of the animal's figure. And again, it was the lion that was allowed to have the largest number of different "positions" - some heralds believe that there are at least 60 of them. In addition to its position, a lion or any other creature can also differ in a number of characteristic features. For example, a walking lion (stance) can also be "with a tongue of a different color" (that is, with a tongue in tincture that is different from the usual scarlet) and "armed" with fangs and claws.
A page from the Dutch coat of arms of 1570, which shows us the family crests with lions on their hind legs - "rebellious", in the exact language of blazoning. Illustration from Stephen Slater's book "Heraldry. Illustrated Encyclopedia ", Eksmo, 2006, p. 82.
Changed the color of the tongue and claws and got a new coat of arms!
Heraldry is a science more precisely. After all, how else to preserve the individuality of each coat of arms, of which there are many thousands. Consequently, the characteristics and positions of the shield design are very important and must be strictly followed. For example, someone will choose a golden rebellious lion against a blue background, another - a golden lion leopard, someone will have a golden rebellious lion, but with the head turned back ... A slight change in the position of the head or a forked tail - albeit in in both cases, the coat of arms will contain a "lion", but in the end we will get two completely different emblems.
Heraldic diversity: 1. Besant. 2. Loafs. 3. Tickets. 4. Squares. 5. Rings. 6. Crescents. 7. Stars. 8. Sun shadows. 9. The comet is a pillar. 10. Five-leafed leaf 11. Shamrock 12. Three-leafed nut. 13. Pomegranate. 14. Thistle. 15. Rose. 16. Rising lion. 17. Rising lion converted. 18. Rising cowardly lion. 19. Lion or leopard walking. 20. Lions leaning against each other. 21. Lions are opposing. 22. Leopard. 23. Lion leopard. 24. Eagle. 25. Eaglet 26. Soaring birds. 27. Griffin. 28. Dragon. 29. Unicorn. 30. Horse. 31. Bear. 32. Boar. 33. Boar's head. 34. Passover lamb. 35. Bull's head. 36. Squirrel. 37. Running greyhound. 38. Bull. 39. Dolphin. 40. Broadheads (fish). 41. Perch leaning back. 42. Chimera. 43. Siren. 44. Kurti, or the head of the Moor. 45. Right hand. 46. ​​Hand with a sword. 47. Hands of fidelity. 48. Growing oak. 49. Orange tree. 50. Olive. 51. A tree uprooted. 52. Aquilon. 53. Blackbirds. 54. Ducks. 55. Doves. 56. Raven.

Knights of the Golden Fleece: 57. Jean Roubet. Ermine coat of arms with a red head. An extraordinary kleinod helmet - a leg in knightly leggings. 58. Rene Pot. Four-part coat of arms; in the 1st and 4th quarters there are golden belts on an azure field; in 2 and 3 - on a chessboard black and silver field, two red belts with gold buckles and swords tied with a ribbon in a red scabbard, interwoven and lined with gold. 59. Roland d'Yutkerk. In a silver field, there is a black cross, burdened with five golden nuts. 60. David de Brimaud. Four-part coat of arms; in the 1st and 4th quarters, on a silver field, there are three red eagles with blue paws and beaks; in the 2nd and 3rd quarters on the silver field there is a blue sling on the right. 61. Hugh de Lannoy. In the silver field there are three green lions in golden crowns, with red claws and tongue. The shield is surrounded by a red scalloped border. 62. Jean de Commines. In a red field with a gold border, a golden rafter, followed by three silver nuts inscribed in black.

Illustration from the book by Liliana and Fred Funkenov "Encyclopedia of weapons and military clothing. MIDDLE AGES. VIII-XV centuries: Armor and weapons. Fortresses and siege machines. Knightly tournaments and emblems. M .: Astrel, 2002, p. 103
Walter von der Vogelweide (c. 1160-1170 - after 1228). The poet and composer of the late Minnesang had in his coat of arms a golden nightingale in a cage. Manesian Code. Heidelberg University Library
Lions or Leopards?
And it so happened that in 1235 the German emperor Frederick II sent three leopards as a gift to Henry III of England. Was this an allusion to the then coat of arms of England? And if so, why do we see leopards in its coat of arms? And in general, the English coat of arms confuses specialists ... The fact is that in English heraldry such a creature as a rising lion stands on its hind legs, and a lion walking slowly on a shield. But the three lions blazonized as "walking and guarding": they walk and look at the viewer. But in French heraldry, the lion is always rebellious and with its head looking forward. "Walking and guarding", and most importantly - looking at the viewer - this is ... always a leopard!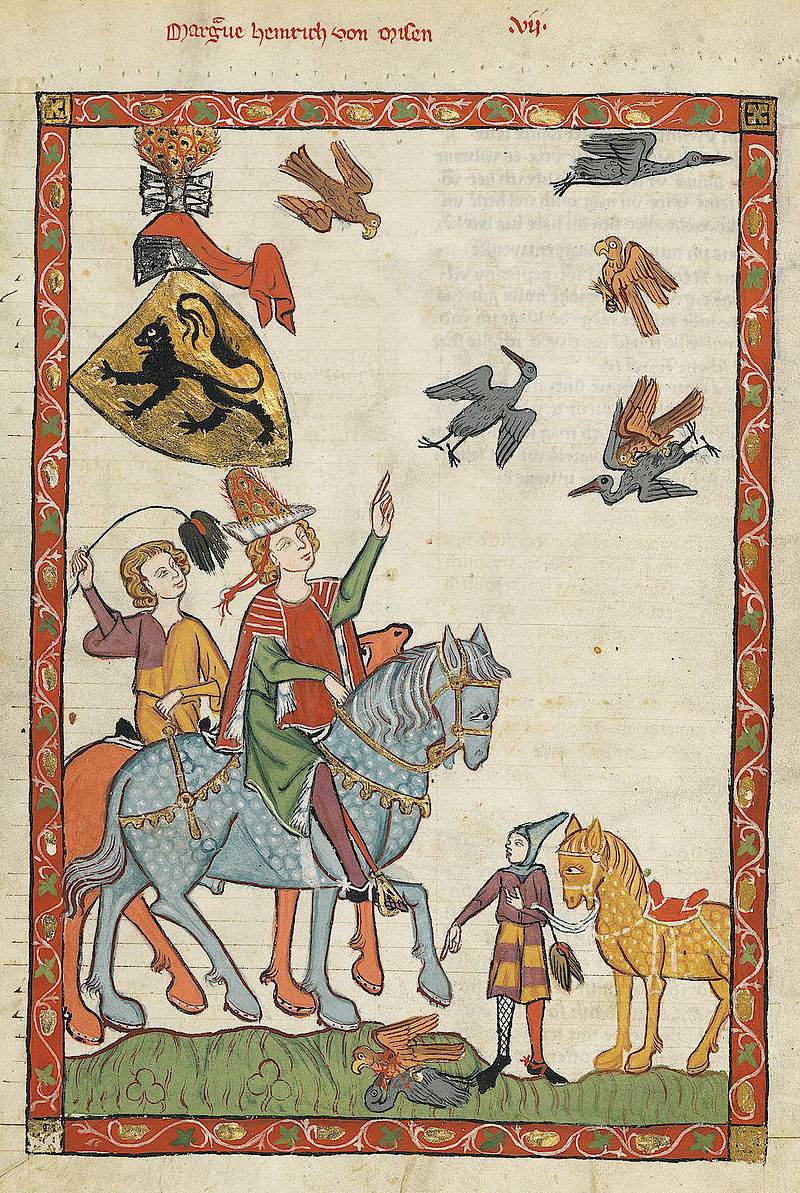 Margrave Heinrich of Meissen. In the coat of arms there is a black rebellious lion in a golden field. Manesian Code. Heidelberg University Library
Moreover, in French heraldry, a raised lion looking at you (in English - "rising and guarding") is called lion leopardе (leopard lion), and a lion walking on its hind legs is called leopard lionne (lion leopard)! A similar example can be found in Russian territorial heraldry, where the emblem of the city of Vladimir depicts none other than a lion leopard, but not a lion!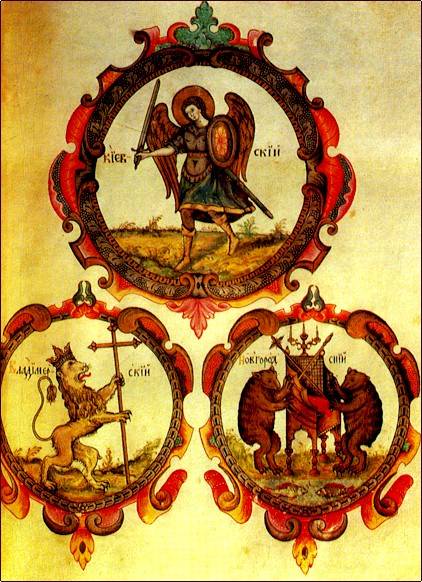 Coat of arms of Vladimir in the "Titular" in 1672
Other beasts
It is clear that the lion on the coat of arms reflected, firstly, its own ferocity and courage, and secondly, its status. The eagle - the king of birds, as well as all other birds of prey of a lower rank would be almost as popular. Interestingly, birds of prey were ranked for hunting. The emperor could hunt with an eagle. King - with Irish Gyrfalcon. The hunting bird of princes and lords was the peregrine falcon. The baron was put in a buzzard. To the knight of one shield - a saker. The squire was entitled to the lanner, the lady to the gyrfalcon. Interestingly, in England even peasants could hunt with birds: a free goshawk, a priest a sparrowhawk, and a peasant dependent on a lord ... a kestrel! In France, a peasant could only hunt with affection! But in their coat of arms (except for the peasants, of course!) There could be birds that were not assigned according to the hunting rank!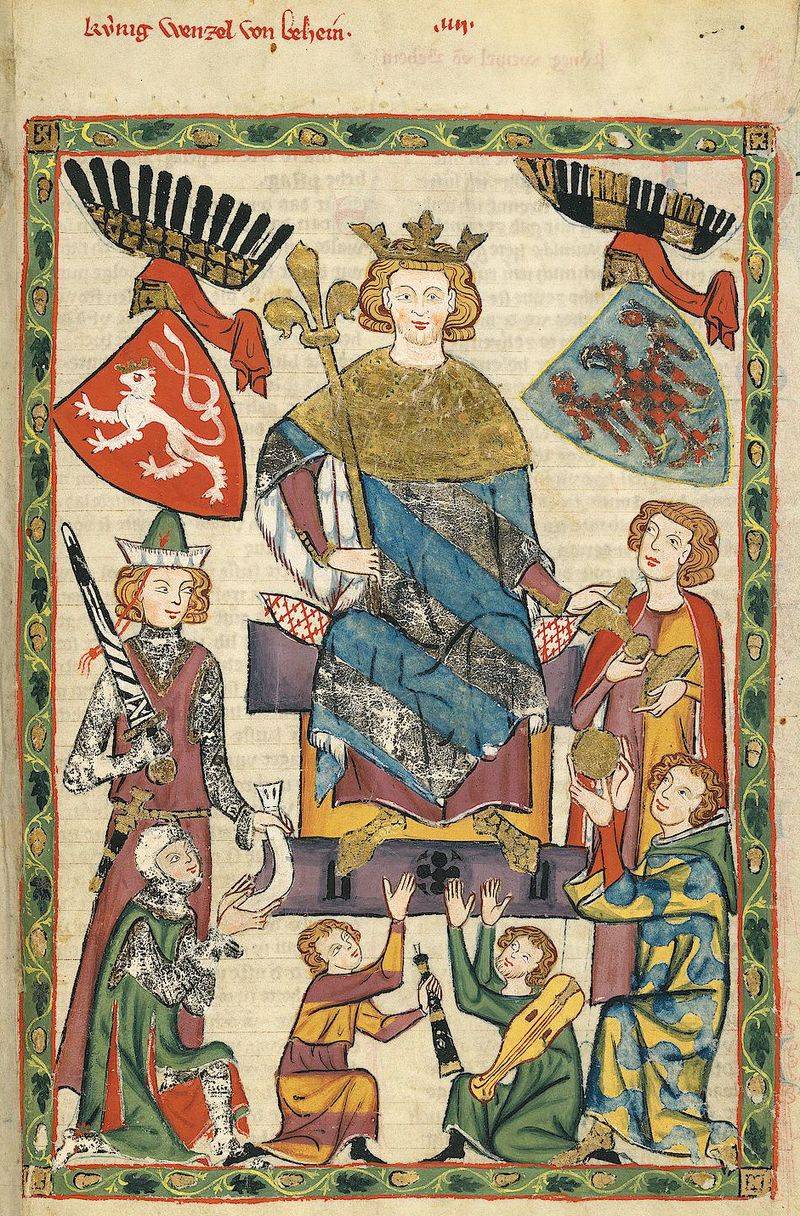 Here in the coats of arms both a lion and an eagle ... Vaclav II Přemyslovich, king of Bohemia. Manesian Code. Heidelberg University Library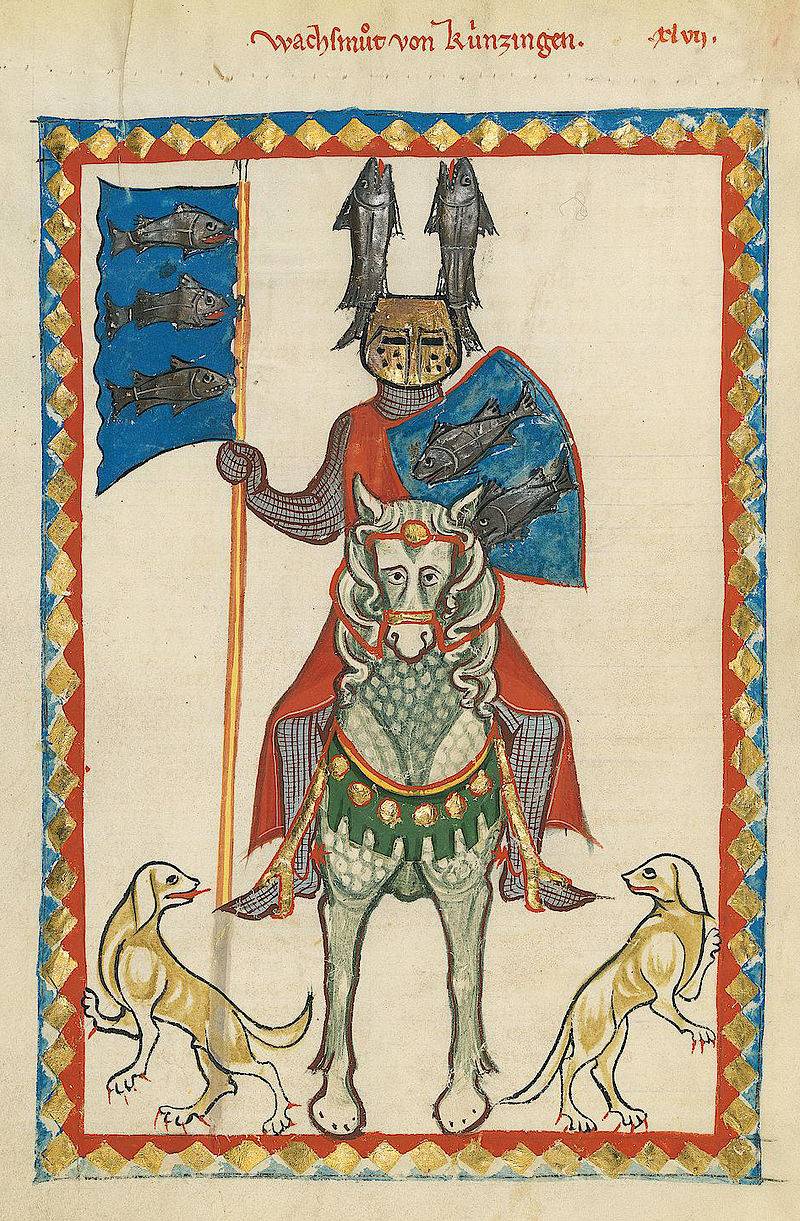 Wachsmut von Künzingen (unknown). There are two fish in the coat of arms! Manesian Code. Heidelberg University Library
Hiltbolt of Schwangau (c. 1221-1254). The black swan in the coat of arms, the black swan on the surcoat, the black swan on the helmet ... the Manes code. Heidelberg University Library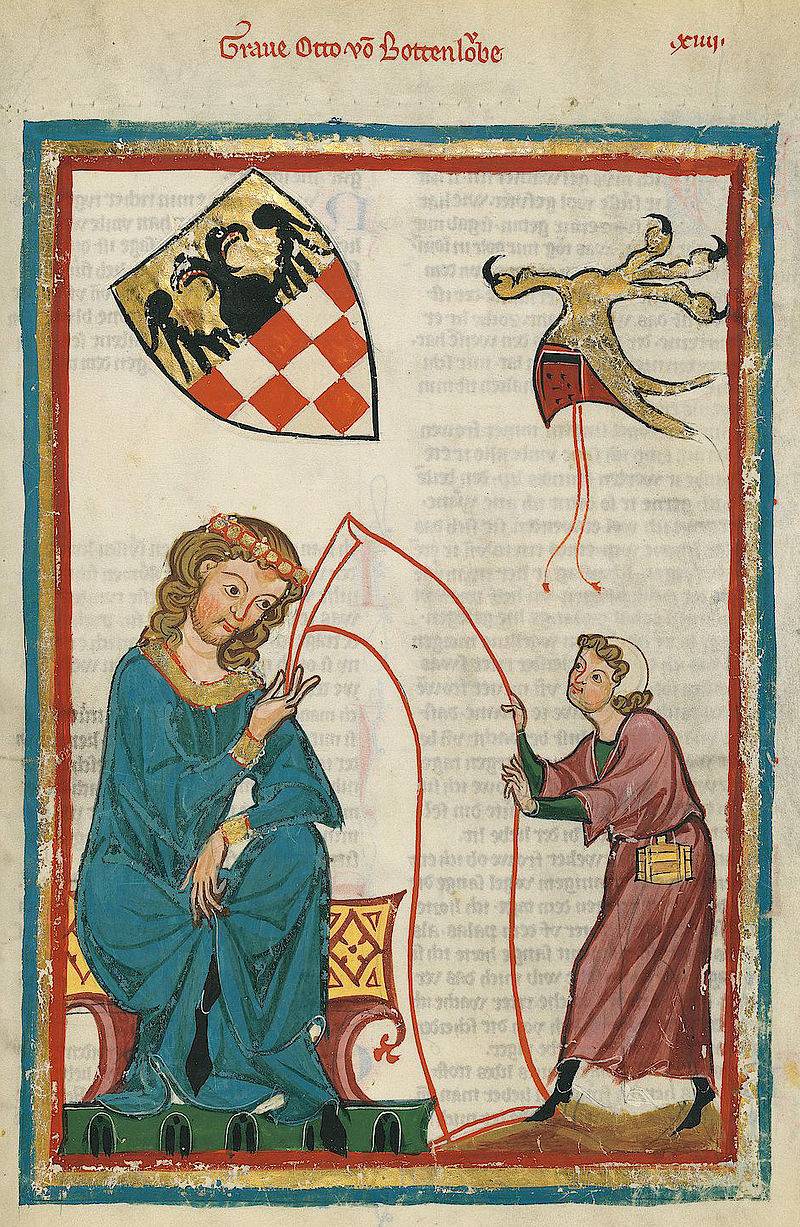 Otto von Botenlauben (unknown). He has half a two-headed eagle and a chessboard in his coat of arms. But he adorned his helmet with the image of a golden eagle's paw! Manesian Code. Heidelberg University Library
Well, in general, on the coats of arms there was only one: bears, wolves - that is, predators, but also elephants, beavers, frogs, fish and crayfish. The noble Pernstein family from Moravia had a black bison head without a neck on a silver shield, turned towards the beholder. According to family legend, the founder of the Venyava family was ... a stoker, but he was distinguished by unusual strength. He caught a wild bison, brought him to the court of the king in Brno and chopped off his head with one blow of an ax. The king was so amazed that he granted Wieniava large estates and the family coat of arms, which reflected this glorious "feat". Do you remember the coat of arms of Baron Fron de Boeuf in the novel by Walter Scott Ivanhoe: a bull's head with horns and the motto "Beware, here I am!"? This happened not only in novels ...
Hartmann von Aue (c. 1168-1210). Not an outfit, but just a "solid passport": a shield, a helmet, a pennant, a blanket - everything is in the heads of a bird of prey. Manesian Code. Heidelberg University Library
And as if there were not enough real animals - all sorts of fantastic creatures were placed on the emblems. However, fantastic for us. In the Middle Ages, people sacredly believed that one-legged people, Pesieglavtsy, and, of course, dragons, unicorns and griffins lived in distant countries. They believed that there was also such a beast as the bonacon. He looked very much like a bull, but had horns bent inward, and was kind and gentle enough by nature, but in defense, he could cover a huge area with burning excrement! Mermaids and sirens were very popular among sea fantasy creatures. The difference is that a mermaid has one tail, and a siren has two!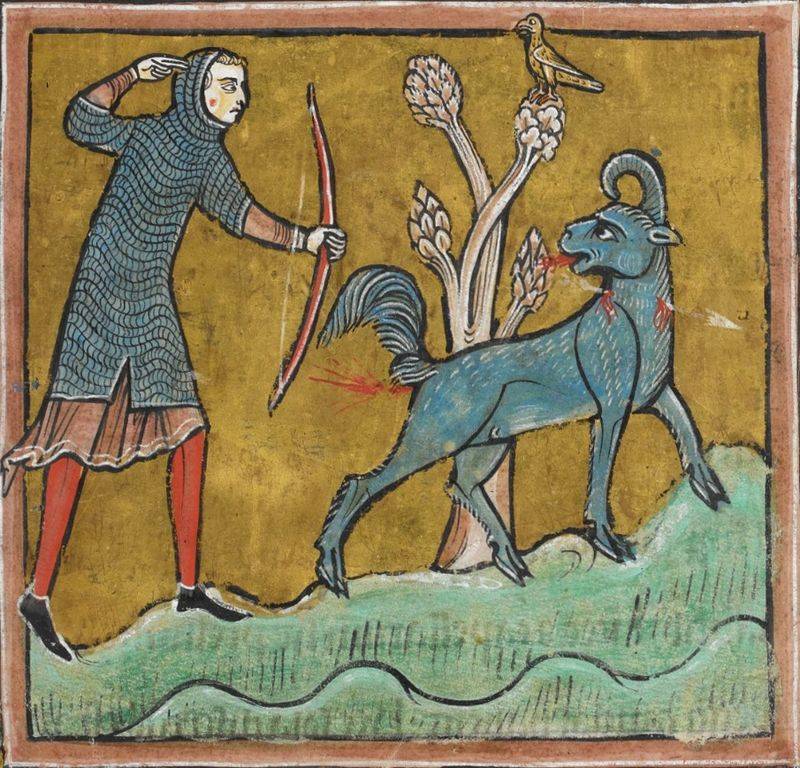 Bonacon. The Rochester Bestiary of the XNUMXth century British library
The griffin was usually depicted with male copulatory organs, but for some reason the image of females was not explained by medieval heraldic authors. There is also a difference in the image of the dragon. With two paws, this is not a dragon, but a snake or a basilisk. But if there are four paws, then this is definitely a dragon. For some reason, the image of a unicorn was especially popular in Poland (starting from the XNUMXth century), Italy and Russia, which can be seen both in the coat of arms itself and as shield holders.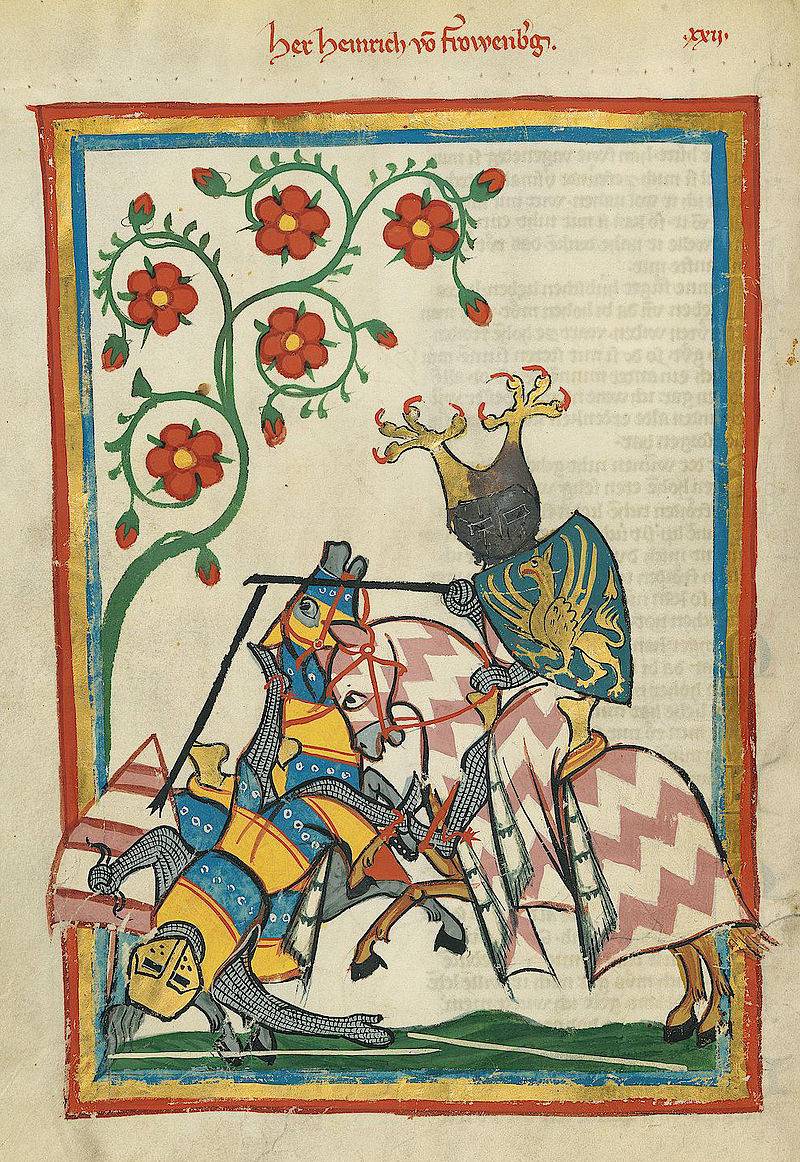 Heinrich von Frauenberg (1257-1314). The coat of arms is a golden griffin (female) on an azure shield. Kleinod of the helmet - two gilded clawed paws! Manesian Code. Heidelberg University Library
To be continued ...