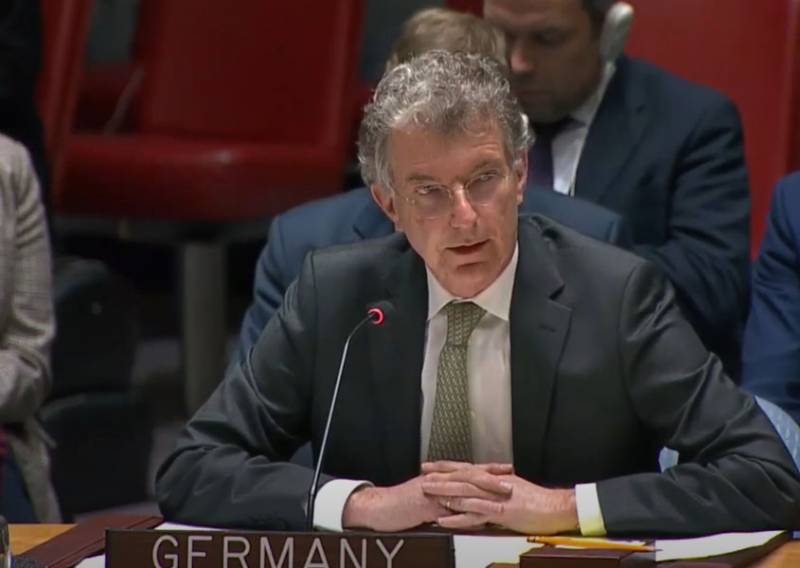 Even more than restrained representatives of Chinese diplomacy could not hide their emotions in connection with the fact that the Permanent Representative of Germany to the United Nations is leaving his post in the UN Security Council. We are talking about Christophe Heusgen, who represented Germany as a temporary member of the UN Security Council for two years. Now Germany's place among the non-permanent members of the Security Council of the United Nations will be taken by another country.
Geng Shuang, the representative of the Chinese diplomatic corps in the UN Security Council, stated literally the following during the departure of Christoph Heusgen:
Good road, Herr Heusgen. This I wish you with all my heart.
The Chinese diplomat in very harsh formulations (which is generally not characteristic of Chinese diplomacy) characterized Germany's stay among the members of the Security Council. According to Geng Shuang, Heusgen "did everything to poison the working atmosphere of the Security Council, allowing himself to attack colleagues from other countries."
Another caustic addition from a Chinese diplomat:
I look forward to the fact that next year, when you, Mr. Heusgen, will no longer be here, the Security Council will respond better to real challenges to international security.
Not without irony, Russian diplomats in the Organization also spoke about the departure of the German permanent representative from the UN Security Council. Thus, the Deputy Permanent Representative of Russia Dmitry Polyansky, calling his German colleague by name, decided to use the words of the satirist Mikhail Zhvanetsky: "What a pity that you finally leave."
At the same time, Dmitry Polyansky added that Christoph Heusgen had managed to earn a reputation as a serious, but very emotional diplomat.
Recently, Heusgen has been one of the harshest critics of Russia and China. With regard to Moscow, the German diplomat pressed on publications about the alleged poisoning of a famous Russian blogger. Heusgen accused China of "expansion to the islands in the Pacific."