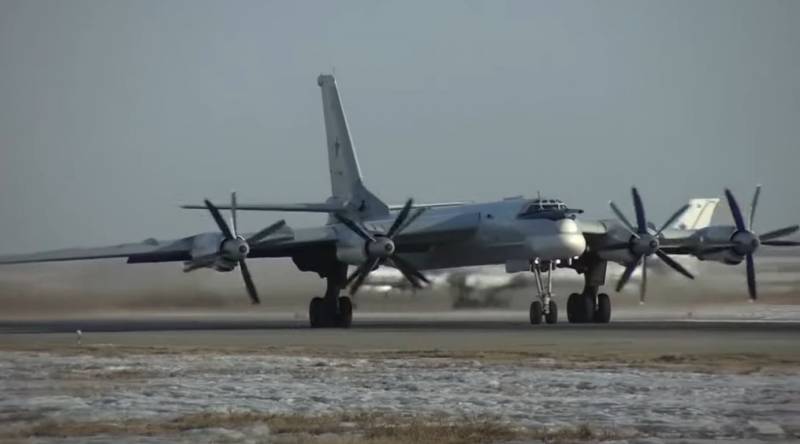 Today Russia celebrates the Day of the Far
aviation
Videoconferencing of Russia. Long-range aviation is one of the most important elements of both the country's Aerospace Forces itself and all structures of national security. At the same time, an important factor in ensuring this kind of security is the development of long-range aviation.
Today it became known that one of the stages in the development of the DA VKS RF was a kind of integration when performing a test flight mission with a Tu-95MS strategic bomber and a drone.
Information Service
TASS
reports that such tests were carried out for the retrofitted Tu-95.
Experts suggest that we can talk about joint tests of the "strategist" with the heavy attack UAV "Okhotnik". Officially, this information has not yet been confirmed, but the interlocutor of the news agency "did not rule out such tests in the future."
During these tests, the interaction of the Tu-95MS with a combat drone was tested. The Tu-95MS was actually used as an operations center to control the actions of an unmanned aerial vehicle.
It is noted that for carrying out this kind of tests, the strategic missile carrier Tu-95MS was additionally equipped with special equipment, which made it possible to communicate with the drone through a secure data transmission channel from one side to another.
Such interaction of the "strategic missile carrier - UAV" level in the future can become a big step forward, including important for the implementation of aerial reconnaissance. A drone moving at high speed can also act as a kind of decoy target for enemy air defense systems.
Previously, the Okhotnik drone was tested with the fifth generation Su-57 fighter. The joint trials were found to be successful.
For your information:
Long-Range Aviation Day in Russia was introduced into the festive military calendar in 1999. Then it took place by order of the Commander-in-Chief of the Russian Air Force, Anatoly Kornukov. Long-range aviation acts as a strategic reserve of the Supreme High Command of the Russian Federation.