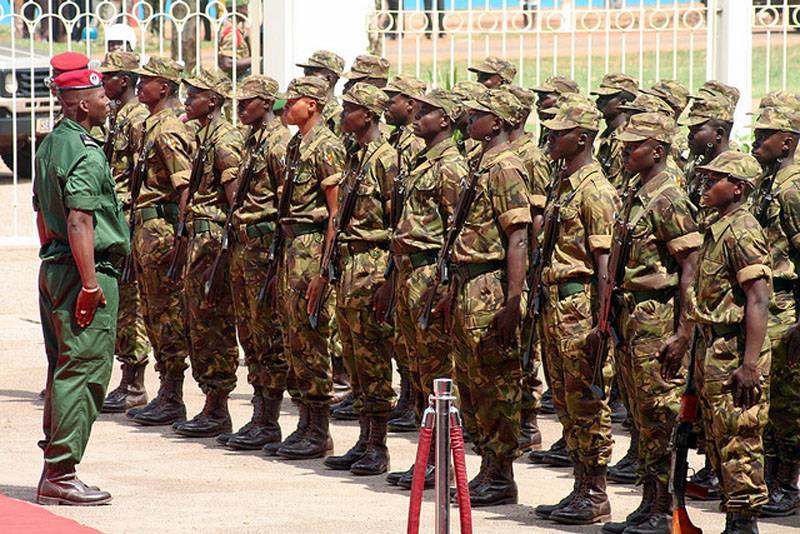 CAR Armed Forces
If in the morning the Russian ambassador to the Central African Republic made statements that only a few Russian military instructors assigned to the Ministry of Defense of this country were in the CAR, now the Russian Foreign Ministry is voicing information of a different kind.
The main foreign ministry of the country actually confirms the information that previously appeared on the pages of the French edition of Le Figaro. This information concerns the dispatch of the Russian contingent to the CAR.
The Ministry of Foreign Affairs of the Russian Federation reports that 300 military instructors are sent to the Central African Republic to train servicemen of the army of this African state. It is added that we are talking about an "additional number" of Russian instructors, whom Moscow sends to Bangui (the capital of the CAR).
It is indicated that such a decision was made in connection with the request of the leadership of the Central African Republic with the notification of the UN Security Council committee.
Recall that the situation in the CAR in recent weeks has deteriorated sharply in terms of security. Several groups, having united, in fact raised a mutiny several days before the elections in the country. And the citizens of the CAR will be elected by the president and parliament members.
Voting will take place on December 27. The rebels' speech could disrupt the elections, so the CAR leadership turned to Moscow for help. And, as is now clear, Moscow did not refuse. The reason for the Russian decision to send military instructors to the CAR is not reported.
The rebels, according to the latest information, are the mercenaries of one of the candidates who were not allowed in the CAR to the elections. The Russian Foreign Ministry declares that it calls on all parties to the conflict in the CAR to negotiate and de-escalate.