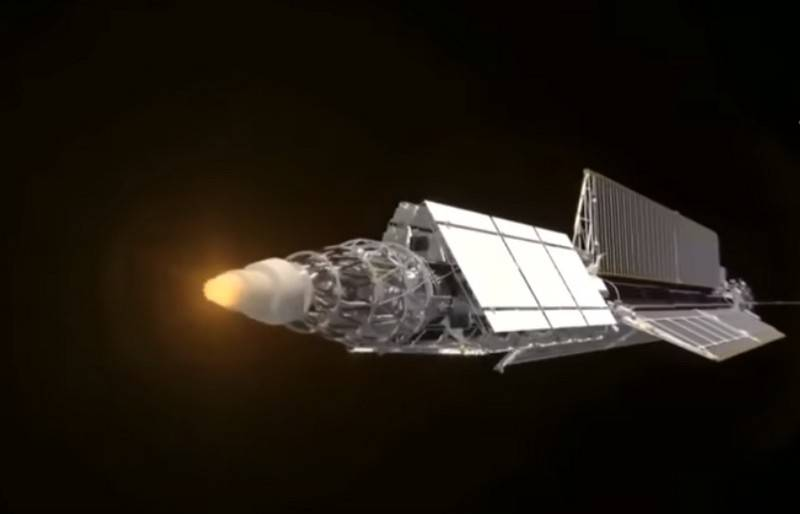 Not being even in the slightest degree a specialist in space technology, I will nevertheless try to understand: what does the actual termination of work on the program "Nuclear Power Propulsion Plant of a Megawatt Class" mean? As well as the start of research on the Nuclon program, which was loudly announced in the media?
For brevity, let's call the first program "Program 1" and the second "Program 2".
Program 1
How to evaluate the change of direction? Is this a step forward or a temporary retreat?
The reason was the listening of a certain gentleman who spoke on the program of the Zvezda channel and presented as an expert. This "expert" confidently said that "Nuclon" would be able to fly to Mars in a couple of months, because in space one could move with any acceleration, since there was no air there.
From such a pearl, I was somewhat dazed. Because the laws of physics are not able to abolish even our legislators: even though there are physically gifted individuals among them like Valuev, Khorkina or Rodnina.
Let's take it for granted that any of these programs, if successful, will give Russia colossal new opportunities in space: the study of the Moon and distant planets. Monitoring the atmosphere and oceans. Intelligence service. Space debris cleaning. Correction of satellite orbits. If necessary, the placement of space
weapons
.
I think that the creation of automatic, rather than manned, vehicles is also an advantage, not a disadvantage: automatic devices now work better in space than people. They do not need a life support system, time to sleep, protection from radiation ... Anyway, plans like the colonization of Mars seem like a harmful and utopian idea.
In some cases, I give not literary, but my own calculated data. And I ask you to believe me: after all, I have been performing similar assessments for the fifth decade due to my profession.
So let's start with the working body. In both cases, it is xenon. Judging by the publications, ten tons of it will be required per refueling.
Why xenon? But because it is an absolutely corrosive non-aggressive substance with a high density (more than 2 tons per cubic meter) with a low ionization potential. And therefore it is convenient for working in an electric rocket engine, relatively high boiling point.
It is extracted from the air during liquefaction and distillation into nitrogen and oxygen. One ton of air contains about 0,39 g of xenon, and therefore it is very expensive. To obtain 10 tons of xenon, it will be necessary to liquidate and distill at least 25 million tons of air! Does Russia have the necessary capacities, or will it be necessary to build new ones from scratch?
In 2009, the price of xenon was around € 20 per liter of gaseous substance at standard pressure. It is unlikely that xenon has fallen in price in 9 years, and the euro is subject to inflation.
A liter of gaseous xenon weighs about 5,85 g. Hence, it is easy to estimate the price of refueling the device: 34 million euros in 2009 prices. For the current ruble, this means three billion. Too much.
Where can you fly at this gas station? Really to Mars, as we are promised?
Let's count.
Program 1 assumed the use of an ID-50 ion engine in combination with a 1 MW power source.
Characteristics of the ID-500 engine: thrust 0,75 N, power consumption 35 kW, specific impulse 7000 s (70000 m / s). It can be seen that the apparatus can include up to 20 engines with a total thrust of 15 N.
It follows from Newton's first law that such a thrust allows an apparatus with a mass of 50 tons to provide an acceleration of 0,0003 m / s / s. With such an acceleration in the absence of the attraction of other bodies, the speed can grow by 1 km / s in 38 days, by 10 km / s in a year.
The average change in speed per year will be 5 km / s, and the distance traveled will be 157 million km.
It seems to be a lot, twice the distance to Mars. But…
But the trick is that the influence of massive bodies has not been canceled. The spacecraft will spin up to the moon's orbit for 180 days, overcoming gravity. He will continue to overcome it, albeit extremely weakened. And the sun's attraction too.
Further, one should not forget that the spacecraft should be decelerated when approaching Mars and entering its orbit. And braking is no easier than accelerating.
In addition, it will not be possible to fly in a straight line - it will be a very intricate trajectory. So you can safely take a flight to Mars - a year and a half.
But on the other hand, it will be possible to deliver a heavy landing module with a bunch of equipment, and maybe with the possibility of launching from a planet with soil samples for subsequent sending to Earth.
It should be noted that the further we fly, the greater the advantages over chemical missiles. The reason is that you can accelerate for a long time. By the way, how long does it take?
How long will xenon reserves last at maximum thrust?
It should be remembered here that the specific impulse coincides with the velocity of the products outflow from the nozzle. Hence, it is not difficult to calculate the xenon consumption at a thrust of 15 N:
F = d (mV) / dt
F = 15 N, V ​​= 70000 m / s, t = 1 s.
Hence, m / t = F / V = ​​0.00021 kg / s = 0,21 g / s.
This is enough for a year and a half of continuous engine operation and reaching a maximum speed of 15 km / s.
Here someone can blame the fact that instead of calculating according to Tsiolkovsky's formula, the calculation "head-on" was used. But the mass of the working fluid in the electric transport system is small, some 20% instead of 95, so we're not much mistaken.
Needless to say, the Pioneer accelerated to sixty: there the speed was achieved due to complex gravitational maneuvers near Jupiter and Saturn. But
an important conclusion: there is no need to talk about any flights to the outer planets in two months, as it is written in many sources.
Program 2
And what about Nuclon?
And here's what.
Judging by the publications, the power going to power the engines in the Nuclon will amount to 0,45 MW with the same mass of the entire apparatus with the payload as in Program 1.
The reactor and radiators seem to be the same. But instead of a gas turbine with an electric generator, a thermoelectric generator will be used.
Apparently, something has not grown together with the machine technology of energy conversion. But the efficiency of thermal converters is lower, hence the decrease in electrical power by half.
When using ion engines, the thrust, and accordingly, the acceleration, in this case will drop by half - to 7,5 N and 0,00015 m / s / s. These are absurdly low values. That is why, probably, ion thrusters were replaced by plasma ones of the SPD-290 type, which have good thrust (1,5 N with a power consumption of 30 kW).
Up to 15 such engines can be installed, the total thrust will be 22 N (more than in Program 1), but the specific impulse is 3000 s (30000 m / s), i.e. more than two times less than with ID-500. Accordingly, the specific consumption of xenon increases by a factor of two, and the maximum acceleration in empty space is reduced to 7 km / s. And the advantages over "chemistry" in terms of the duration of flights to distant planets are lost - if you do not resort to gravitational maneuvers.
True, there remains an excellent power-to-weight ratio and cargo capacity: none of the existing missiles can pull ten tons into deep space.
What are the prospects?
Oddly enough, but Program 2 can facilitate manned missions to the Moon. No, "Nuclon" will not be lucky for the astronauts, but it will be able to deliver the takeoff and landing module and fuel to the lunar orbit in parts. And this will make it possible to do without the insanely expensive super-heavy missiles.
It is unlikely that in the foreseeable future it will be possible to significantly increase the specific power of the reactor. Also, radiators will remain massive for a long time. And their dimensions cannot be reduced by any tricks at all: the Stefan-Boltzmann law cannot be prohibited.
But nothing prohibits improving the characteristics of engines, as well as moving away from expensive xenon to cheap lithium, iodine, krypton. And such work is underway.
In the same way, work will probably continue on the machine generation of electricity, or increase the efficiency of thermoelectric generators.
Сonclusion
Nuclon is definitely a step back
compared to Program 1.
But this step allows you to master what has been successfully developed in the framework of program 2 and move forward.
So
space (both far and near) will be ours.