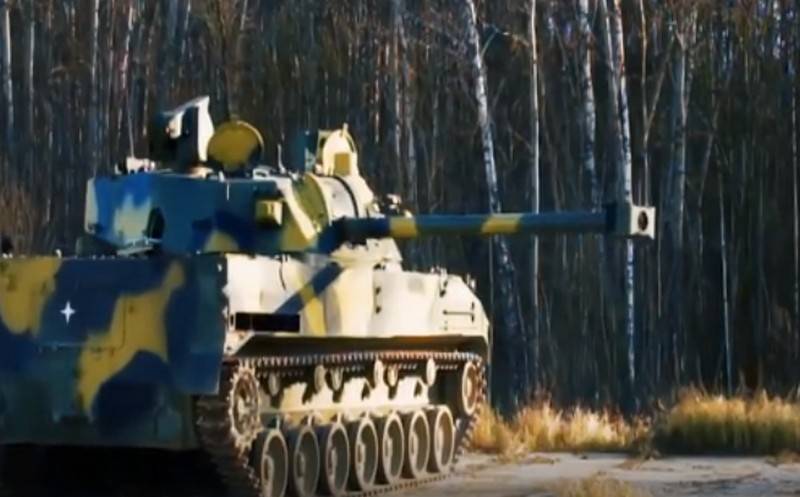 The 120-mm self-propelled artillery gun "Lotos", developed by the Central Scientific Research Institute of Precision Engineering (TsNIITOCHMASH) in the interests of the Airborne Forces, has begun preliminary tests. The press service of Rostec reports.
This stage includes more than 80 points that allow you to determine and evaluate the performance characteristics of the equipment, its performance and compliance with the stated requirements. Based on the results of preliminary tests, recommendations will be developed for conducting state tests.
"Lotos" will demonstrate its work in motion, afloat and while landing. Of the 600 km of run, 50% will be on dirt roads, 30% on cobblestone and gravel roads, and 10% of the car will be off-road. The tests will allow, among other things, to assess the capabilities of the self-propelled gun to overcome various obstacles
- said the industrial director of Rostec Bekkhan Ozdoev, adding that the car will cover over 600 km, fire 300 shots and overcome various types of obstacles.
At the stage of acceptance tests, which preceded the preliminary tests and ended at the end of November, the "Lotus" covered 400 km and fired 14 shots. This stage made it possible to assess the performance of all units, mechanisms and instruments of the tool.
The newest airborne floating self-propelled artillery gun "Lotos" was created on the BMD-4M chassis and is intended for the Airborne Forces of the Russian Federation. Mass - 18 tons, speed - up to 70 km / h, power reserve - at least 500 km. Combat crew - 4 man. The rate of fire - 6-8 shots per minute. Firing range - up to 13 km.
CJSC "Lotos" is designed to replace self-propelled 120-mm self-propelled artillery and mortar units 2-9 Nona and its modifications that are in service with the Airborne Forces.