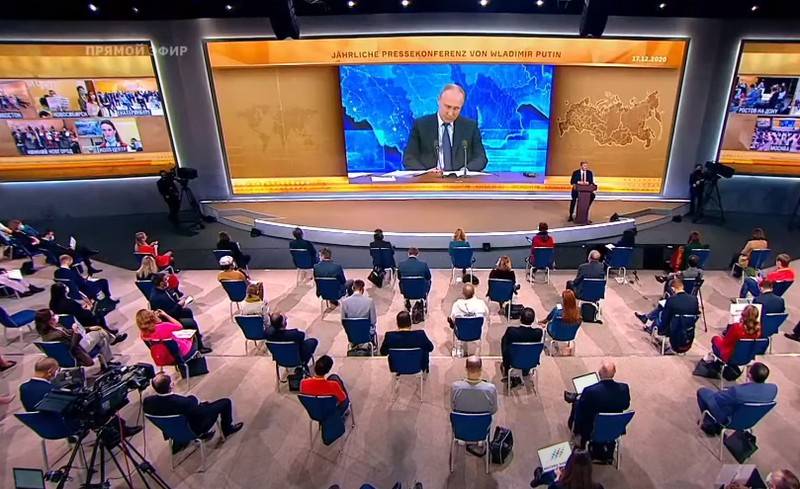 Vladimir Putin held a pre-New Year press conference at which he answered many questions from journalists. The Russian president once again wanted to show himself as the head of the executive branch, the caring father of the nation and the fierce defender of the Motherland, but this time everything went wrong, says Mark Galeotti in an article for the British edition of The Spectator.
Vladimir Putin is not holding the first press conference at which he answers journalists' questions. The magic aura, always felt at such events, this time went somewhere. The reason for this was the very format of the press conference, where a bunch of correspondents were with the President of Russia, and everyone else saw Putin on the screen.
Putin himself did not say anything new during the press conference, only repeating the old theses. Answering questions about the coronavirus, the situation in the economy, relations with the West, he actively used the familiar wording: the situation is difficult, but in other countries the situation is even worse.
He is partly right, the author writes, but this is no longer enough. Of course, Russians who survived the anarchy and troubles of the 90s began to live better. But the thought that somewhere they live even worse than in Russia does not calm them down anymore.
Putin was asked many uncomfortable and unpleasant questions, for example, about Navalny, followed by a group of chemical weapons specialists from the FSB, about an undeclared war in southeastern Ukraine, about who is to blame for the deterioration of relations between Russia and the West. Putin did not answer all these questions directly, but got off with streamlined wording, blaming the West for everything, and calling Russia "white and fluffy."
Putin got off with routine phrases, without giving a single hint of a readiness for reconciliation, of a readiness to soften the increasingly aggressive, confrontational tone that Putin's Kremlin has been following lately both inside and outside the country.
- writes Galeotti.
Thus, the author claims, without saying anything new and blaming the West for everything, Putin showed that he is still good, and the whole world is bad. Moreover, at the end of the press conference, like Santa Claus, he announced the payment of 7 thousand rubles to all families with children under 5 years old, which is "as much as 50 pounds sterling"!