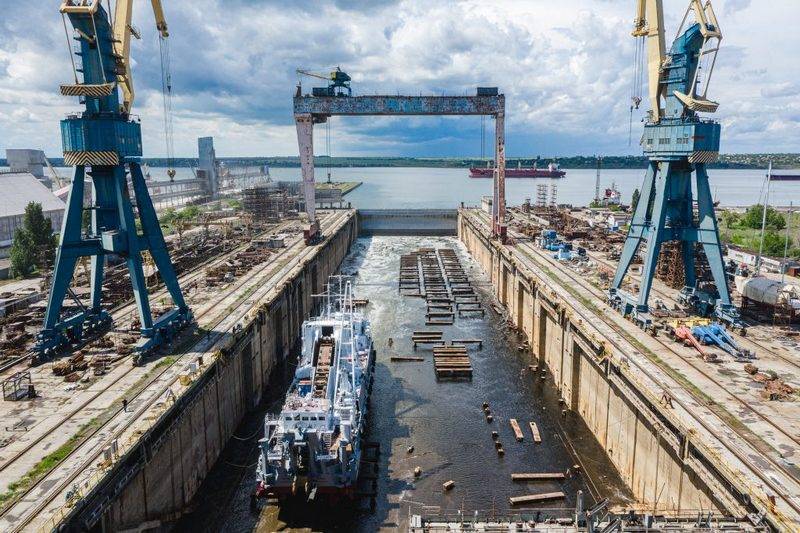 In Ukraine, they decided on a plant that will build corvettes for the Ukrainian Navy using Turkish technologies. As reported by the Ukrainian mass media, the Nikolaev shipbuilding plant "Ocean" will be engaged in it.
According to the press service of Okean, the GCC signed a memorandum with the Turkish state defense concern within the framework of the contract concluded on December 14, 2020 for the construction of corvettes in the interests of the Ukrainian Navy. Before that, the Turks conducted an audit of Ukrainian shipbuilding enterprises that have the ability to build ships of the corvette type. The choice fell on "Ocean".
The Ocean shipyard was selected and included in the joint program, taking into account the unique technical capabilities of the enterprise, the availability of professional personnel and the current program for the modernization of production assets
- Said the press service.
As part of the signed memorandum, the parties can conclude separate contracts within the framework of the corvette construction program.
It should be reminded that on December 14, the Ukrainian Defense Ministry signed an agreement on deepening military-technical cooperation with Turkey. The agreement provides for the transfer of certain technologies of a military-industrial format to Kiev, as well as the production of corvettes and attack drones developed by Turkey.
Earlier it was reported that the first corvette for the Navy of the Armed Forces of Ukraine can be manufactured in Turkey, and all subsequent ones will already be produced at a Ukrainian enterprise.
As a possible project in Kiev, a corvette of the "Ada" type is being considered - a ship capable of conducting anti-submarine operations and patrolling on the high seas, with widespread use of stealth technologies in the design.