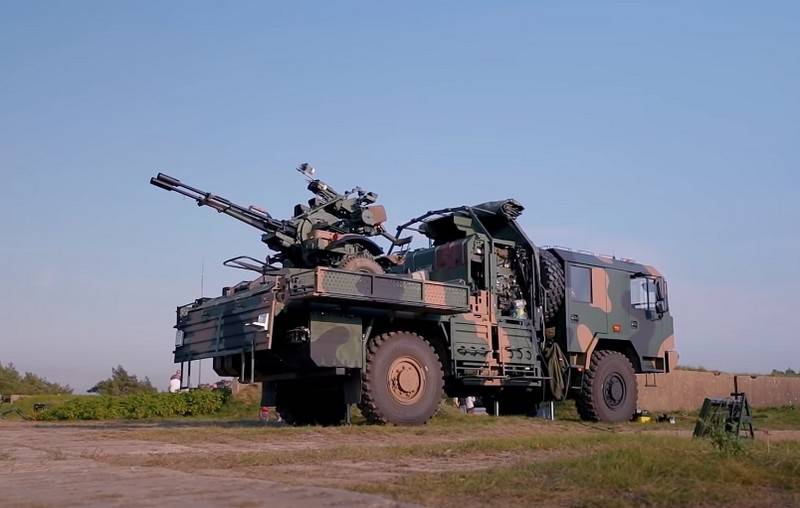 A video of test firing of the new Polish anti-aircraft missile system PSR-A Pilica has appeared on the Web. The video on its official YouTube channel was posted by the Polish state-owned company PGZ, which received a contract for the production of six batteries of anti-aircraft guns.
The Polish Ministry of Defense has reportedly received the first battery of PSR-A Pilica anti-aircraft missile systems. New installations entered service with the 3rd Warsaw Air Defense Brigade. A total of six batteries are expected to be delivered until 2022.
The PSR-A Pilica short-range anti-aircraft missile system includes the ZUR-23-2KG Jodek-G anti-aircraft gun, as well as two short-range Grom / Piorun guided missiles. One battery includes six combined complexes, as well as artillery tractors, a command post, a radar station, 2 transport vehicles and 2 vehicles with ammunition.
ZUR-23-2KG Jodek-G was created on the basis of the Soviet 23-mm ZU-23, the Piorun complex (originally designated as Grom-M) is a further development of the Grom MANPADS, which was originally a licensed copy of the Soviet Igla-1 MANPADS.
The declared firing range of the gun is 2 km, the MANPADS is 5 km. Each installation can operate both autonomously, since it has a computerized fire control system and optoelectronic devices, or be integrated into an echeloned anti-aircraft defense system, receiving target designation from an automated control system.