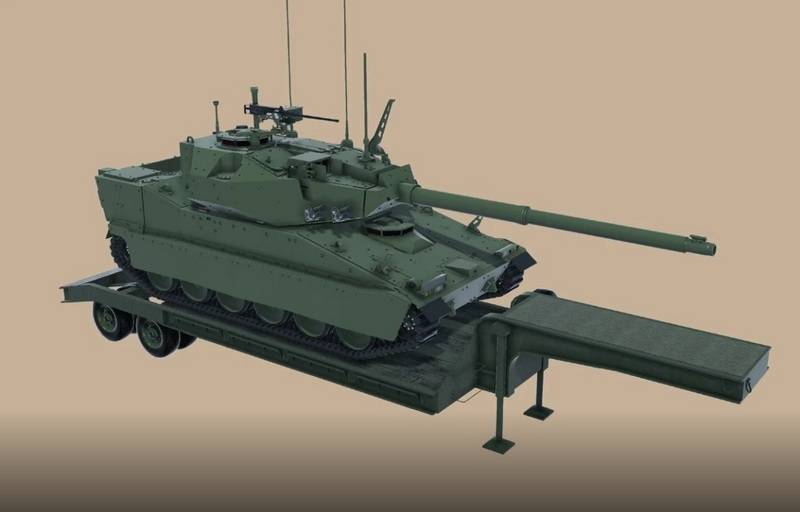 BAE Systems Corporation showed the final appearance of a tracked combat vehicle with cannon armament (light tank), presented to the US Army's Mobile Protected Firepower (MPF) tender.
The corporation offered a new version
tank
M8 Armored Gun System, developed by FMC at the turn of the 1980s and 1990s to replace the M551 Sheridan light tank. The M8 tank had a combat weight of 19 to 25 tons, depending on the version of the interchangeable protection kit, and was equipped with a 105 mm M35 cannon in a remote installation with an automatic loader.
According to the bmpd blog, the presented machine based on the M8 has a significantly redesigned turret with a modular reservation system and the installation of an Elbit Systems Iron Fist active protection complex. The 105-mm XM35 cannon with an automatic loader is retained, the ammunition load is 21 rounds A new fire control system and new tracks were applied, the power plant was modernized - an MTU diesel engine was used in combination with an Allison 3040MX automatic transmission. Air transportability is declared - one Boeing C-17A aircraft is capable of transporting two cars, and the Lockheed Martin C-130 aircraft - one car.
Recall that General Dynamics offers a completely new development of the Griffin II light tank. The Griffin II is a symbiosis of the modified turret of the M1A2SEPv2 Abrams tank and the ASCOD 2 chassis. The new 120mm XM360 cannon was chosen as the weapon. The combat weight of the Griffin II reaches 38 tons.
The Mobile Protected Firepower (MPF) program provides for the creation of a tracked combat vehicle weighing no more than 32 tons, equipped with 105 or 120 mm cannon armament and an active protection system.
On December 17, 2018, the United States Army awarded two contracts with BAE Systems and General Dynamics Land Systems (GDLS) for more than $ 375 million and $ 335 million, respectively, for the production of prototypes. By the end of 2021, based on the test results, the winner of the tender will be selected. The order for the first pre-production batch of 26 vehicles is planned to be issued in the second half of 2022 with an option for the second pre-production batch of 28 vehicles. Full-scale serial production is planned to be launched in 2025.