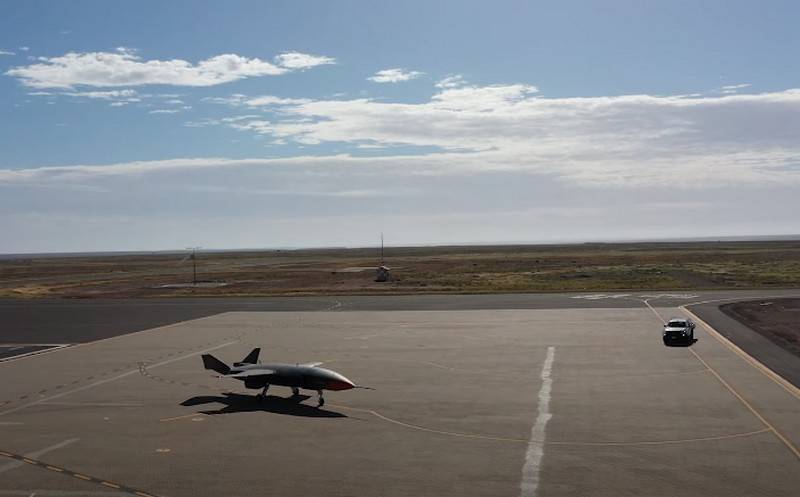 The promising unmanned wingman Loyal Wingman, developed by Boeing for the Australian Air Force, has entered the next stage of ground tests. According to the Boeing concern, the device began high-speed runs.
Boeing experts have moved on to the stage of high-speed runs Loyal Wingman, passing the stage of low-speed runs. The task of these two stages is to check the operation of the vehicle's engine, fuel system, braking system, the correct operation of the on-board equipment, as well as the controllability of the drone. In addition, at the stage of high-speed runs, the operation of the control center is checked.
Ground tests of Loyal Wingman have been underway since early autumn. The first flight of the drone, previously scheduled for the end of this year, has been postponed to the beginning of the next. The reasons for the transfer were not reported.
The unmanned wingman has a length of 11 meters, a wingspan of 11,7 meters and one jet engine. The design is modular, which allows you to change the payload depending on the task at hand. The declared range is 3700 kilometers. The drone must accompany the fighters as a wingman, while carrying additional weapons or other systems necessary to complete the mission.
Loyal Wingman is being developed under the Loyal Wingman Advanced Development Program for the benefit of the Australian Air Force. Three flight prototypes will be involved in the tests. The tests themselves are being carried out at the Voomera rocket and space test site in South Australia.
Earlier, the US Air Force tested the gatewayOne network gateway, which is supposed to provide data transfer between fifth generation fighters and unmanned wingmen. The gateway allowed the F-35 and F-22 participating in the experiment to exchange information, the unmanned XQ-58A Valkyrie slave could not connect to the gateway.