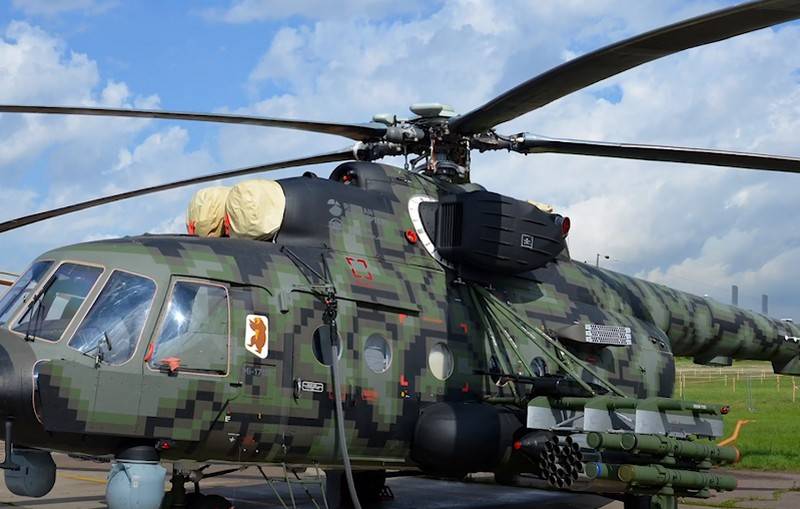 The newest transport and combat helicopter Mi-8AMTSh-VN, during the past tests, confirmed its strike and assault capabilities as a flying airborne combat vehicle. It is reported by
RIA News
with reference to a source in the military-industrial complex.
The interlocutor of the news agency called the helicopter "a multifunctional machine for performing shock, assault and airborne transport tasks", this was achieved thanks to the improved complex of controlled
weapons
and increased survivability.
The prototype Mi-8AMTSh-VN in recent tests fired guided missiles of the Ataka-VM complex at targets imitating enemy armored vehicles. (...) also used unguided rockets and cannons in overhead containers. The shooting was recognized as successful.
- said the source, adding that in fact the helicopter confirmed the characteristics as a flying combat vehicle of the landing.
The start of flight tests of the Mi-8AMTSh-VN transport and combat helicopter was reported in July this year. The first batch of 10 helicopters will go into service in 2021, all of them will be delivered to the army brigades
aviation
working in the interests of the Airborne Forces.
The Mi-8AMTSh-VN helicopter is an improved version of the Mi-8/17 helicopter, created taking into account the Syrian experience. It is equipped with VK-2500-03 gas turbine engines with an upgraded transmission and improved climatic characteristics and a new carrier system. In addition, the helicopter was equipped with an updated armament, the main feature of which was the use of special suspension on the farms of two course machine guns of 12,7 mm caliber. The cockpit and main components of the helicopter are covered with titanium alloy armor, and the cockpit floor and sides up to the windows are covered with removable Kevlar armor.
A new flight and navigation equipment was installed on the helicopter. To increase the combat survivability, the principle of a combination of a "glass cabin" and reliable analog instruments has been applied. The machine is adapted for use at night.
Mi-8AMTSH-VN is equipped with the LSZ-8VN defense complex, which automatically detects the launch of missiles by helicopter, interferes with their guidance heads and emits false thermal targets.