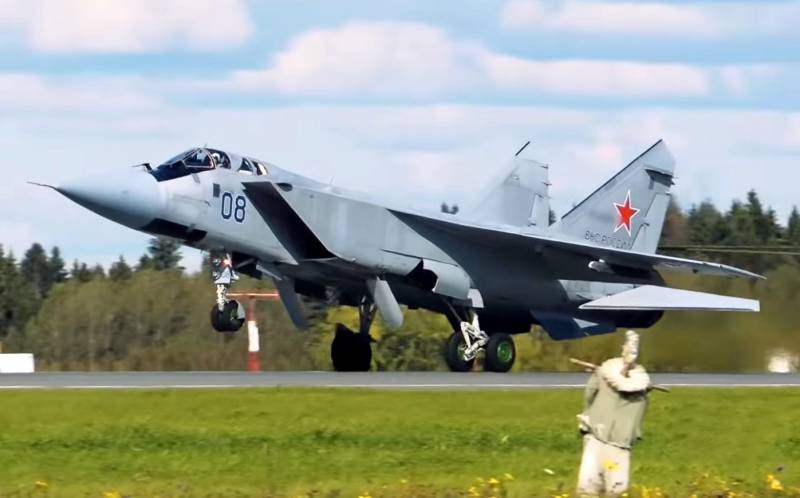 The MiG-31 interceptor fighter remains today the heaviest combat aircraft in the world designed for air combat. It surpasses the speed and altitude of the MiG-29 and Su-27, and its specific armament in the form of radar guided missiles is distinguished by increased power.
As indicated by the Military Watch (USA), the MiG-31 was not only the most formidable in the line of fighters of the late Soviet era, but also the most expensive both in operation and in production. In this regard, after the collapse of the USSR, its production ceased. Now the Armed Forces of the Russian Federation is armed with about 200 vehicles (not counting 100 in storage). The lack of production of the MiG-31 led to speculation that it would soon be retired.
By 2028, the MiG-31 fighter-interceptor will cease to exist ... We have time to create a new aircraft as a replacement
- said in 2016 the head of the MiG corporation Sergey Korotkov.
However, according to the American press, the prospects for replacing the MiG-31 with a new interceptor in the person of the MiG-41 "seem very weak":
It would be a great achievement for a jet [not yet first flown] to even reach initial operational readiness by 2028.
According to Military Watch, even with technological maturity, the MiG-41 will prove to be a rather problematic machine, since it will become the most expensive aircraft outside the Western world:
Russia is unlikely to replace its entire MiG-31 fleet, even by the mid-2030s.
According to the publication, the MiG-31 "does not face resignation" and even with the appearance of a new interceptor, they will remain in service in the MiG-31K version as carriers of the "Dagger" - at least until 2040.
Bombers can remain in service for decades because they are not required to participate in aerial combat.
- concludes the edition.