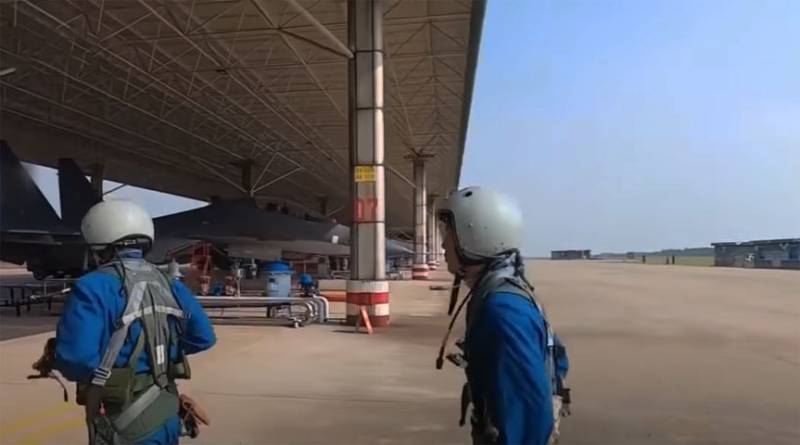 In China were held
aviation
training sessions in which a comprehensive attack on conventional enemy aircraft was practiced. These aircraft, according to the training scenario, tried to invade the airspace of the PRC.
It is known that during the training, several variants of the fighters in service with China were involved. In particular, these are Russian Su-30s, as well as J-10 fighters of their own production.
In this case, the role of a conditional enemy was played by the fifth generation fighters of the PLA Air Force J-20, as well as "conditional computer tags". According to some reports, these tags imitated the F-16 and Mirage2000 fighters.
The Chinese media are discussing why this particular configuration of training for Chinese pilots was chosen by the command. Regarding the tags imitating the F-16 and Mirage2000, it is said that this was a practice of air combat against combat aircraft that are part of the Taiwan Air Force. To date, the Taiwanese air force has more than fifty French Mirage2000 fighters and almost 150 F-16 fighters of various modifications in its composition.
A separate question is why the J-20 was used as a conditional enemy?
The Chinese press indicates that this fifth generation fighter served as the American F-35. The reports say that the ability to detect these aircraft in the event that they get as close as possible to China's air borders was being worked out in the sky. In this regard, the involvement of the Su-30 in maneuvers looks significant. It is possible that China took into account at least two cases when the Su-30MKI of the Indian Air Force discovered the new generation of J-20 fighters. In such a situation, the Su-30 and J-10 tandem was used as a single system to identify the target and its possible subsequent destruction.