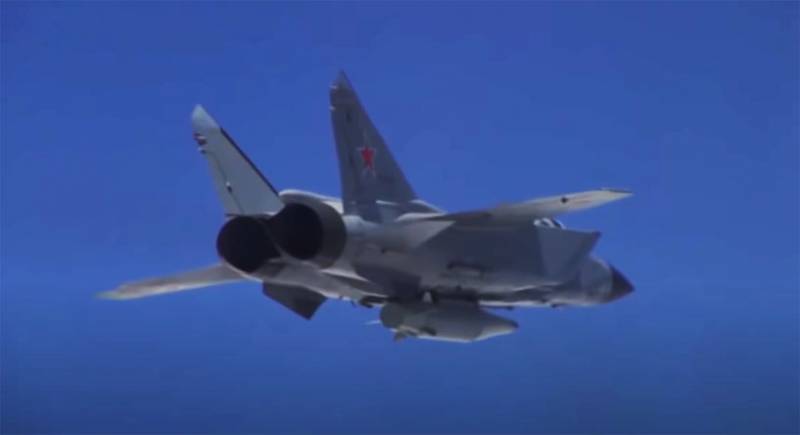 In the Chinese media, materials appeared with some analysis of the transfer of Russian MiG-31 interceptors to the Anadyr airfield in the Chukotka Autonomous Okrug.
The Sohu information resource writes that the appearance of these fighters of the Russian Air Force neutralizes the increase in the number of American fifth-generation F-35 fighters in Alaska. At the same time, on the pages of the Chinese resource, it is said that airplanes that carry hypersonic
weapon
... We are talking about the MiG-31K - the Kinzhal hypersonic missile system.
From Sohu Material:
The distance from Russian Chukotka to the coast of Alaska is minimal. Given the capabilities of the hypersonic Dagger, including its speed and range, half of the US population can hardly sleep well. After all, the MiG-31 can at any time send the Dagger hypersonic missile towards the United States.
The Chinese author writes that the deployment of the MiG-31 in Chukotka "clearly makes the Pentagon very nervous."
It should be noted here that, according to official reports of the Russian defense department, several MiG-31BM naval fighters were relocated to Anadyr.
aviation
Pacific
fleet
Russian Navy. This deployment is positioned as an improvement in the air defense system on the eastern borders of Russia. There were no official statements that the MiG-31K (Dagger hypersonic complexes) were sent to Chukotka. But the Chinese media decided that it was the "Daggers" that were put on alert "near the US borders."
At the same time, the material notes that "the usual versions of the MiG-31 can cause problems for the United States, since they will be able to counter American fighters if they rise to intercept Russian Tu-160s in the Alaska region."