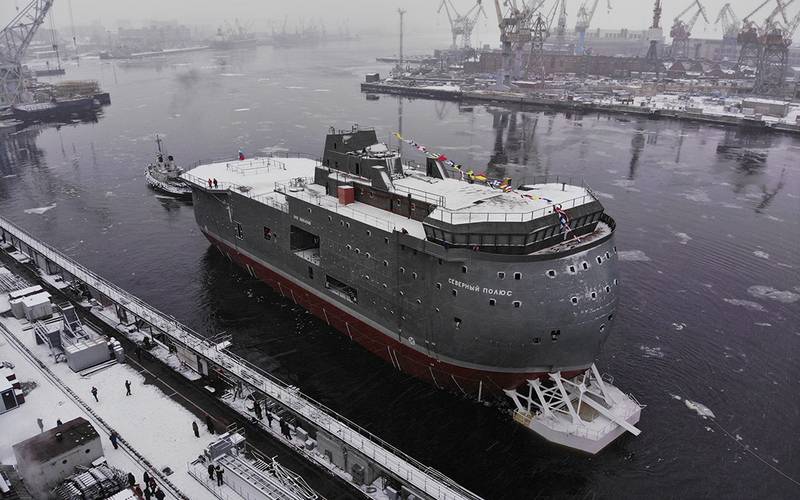 An ice-resistant self-propelled platform "North Pole" was launched in St. Petersburg. The launching ceremony took place on December 18 at the Admiralteyskie Verfi JSC. The United Shipbuilding Corporation reports.
The ice-resistant self-propelled platform of project 00903 is an all-season research platform with the functionality of a research center. Designed for year-round scientific research in the Arctic Ocean.
The vessel will be able to conduct geological, acoustic, geophysical and oceanographic observations, move in ice without the involvement of an icebreaker, and receive heavy helicopters of the Mi-8AMT (Mi-17) type. Wintering while maintaining comfortable and safe working and living conditions at the polar station is possible at temperatures down to -50 C
- said in the message of the USC.
The construction start ceremony at Admiralty Shipyards was held on December 21, 2018, the platform was officially laid on April 10, 2019. According to the terms of the contract, the vessel was to be handed over to the customer at the end of 2020, but the terms were shifted by two years with commissioning in 2022.
According to the project, the North Pole platform has the following characteristics: length - 83,1 m; width - 22,5 m; displacement - about 10390 tons; power plant - 4200 kW; speed - not less than 10 knots; autonomy in terms of fuel reserves - about 2 years; service life - at least 25 years. The crew of the vessel is 14 people + 34 scientific personnel.
Ice class Arc8 - independent navigation in cohesive one-year and two-year Arctic ice with a thickness of up to 2,1 m in winter-spring navigation and up to 3,1 m in summer-autumn. Overcoming ice bridges by raids. Navigation in the channel behind the icebreaker in two-year arctic ice up to 3,4 m thick in winter-spring and without restrictions in multi-year ice during summer-autumn navigation.