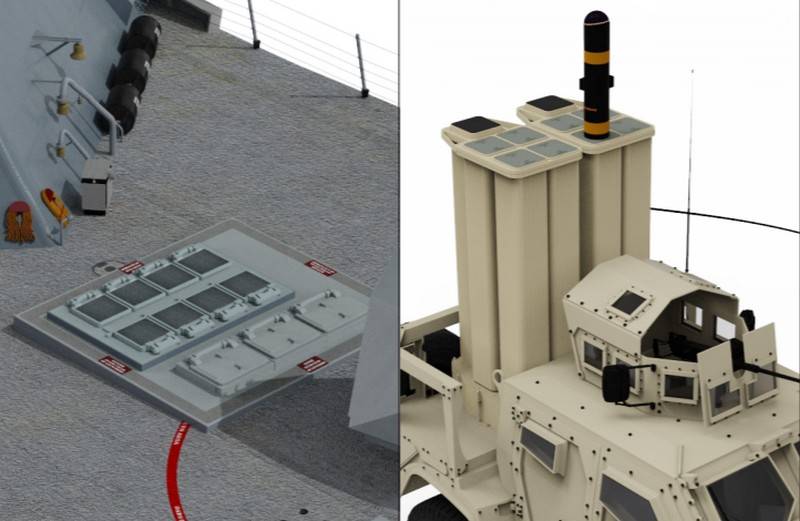 Missile-carrying jeeps may appear in the American army. According to The War Zone, citing Lockheed Martin, a new launcher has been developed for the AGM-179A Joint Air-to-Ground Missile (JAGM) multi-purpose missile, which will allow the missile to be placed on ground vehicles.
The American company Lockheed Martin has presented a new four-shot launcher designed to be placed not only on US Navy ships, but also capable of accommodating small boats or ground vehicles.
The JAGM Quad Launcher (JQL) is reminiscent of the existing Lockheed Martin vertical launchers used on American surface ships.
fleet
... Designed with an open architecture that allows it to be integrated into the required media. The company guarantees the compatibility of the launcher with existing combat control systems.
The launcher itself will be produced in two types: the first is designed for below deck installation, the second is intended for installation on deck or ground vehicles.
The company does not provide exact technical details of the installation, but advertising materials show the placement of two launchers in the rear of a 4x4 Joint Light Tactical Vehicle (JLTV) truck.
Thus, according to Lockheed Martin, the new launcher makes it possible to place AGM-179A missiles on JLTV (Joint Light Tactical Vehicle - joint light tactical vehicle) vehicles, thereby significantly increasing the firepower of infantry units against armored vehicles.
JLTV jeeps with PU JAGM Quad Launcher are especially attractive to the US Army and the US Marine Corps, the company emphasizes.