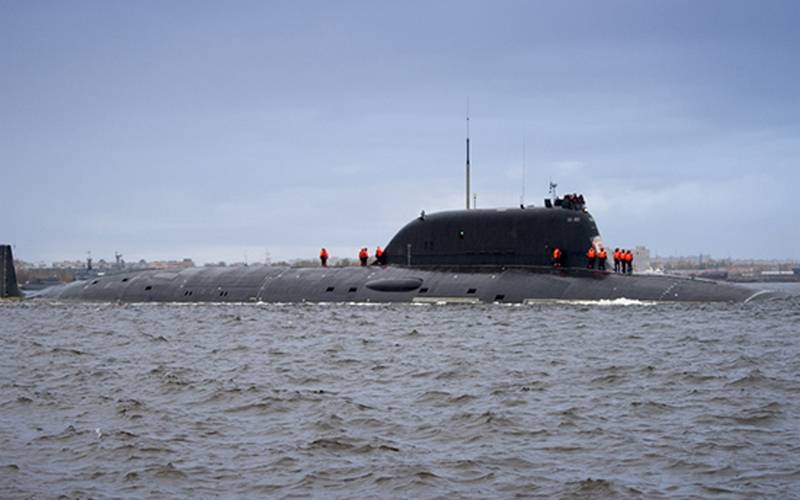 The lead multipurpose nuclear submarine Kazan, project 885M Yasen-M, fired the Onyx anti-ship cruise missile as part of the final stage of state tests. The press service of the Northern
fleet
.
The Kazan nuclear submarine, being at one of the Northern Fleet's sea ranges in the White Sea, launched the Onyx anti-ship missile system against a sea target. The ships and vessels of the White Sea naval base of the Northern Fleet were responsible for the protection of the water area and the provision of firing. The Ministry of Defense does not provide any other details of the shooting.
Rocket fire was conducted from the Northern Fleet's combat training grounds in the White Sea as part of the next stage of state tests. Marine target position was successfully hit
- said in a statement.
Note that this is already the third shooting of the Kazan nuclear submarine in the framework of state tests. On November 23, the Kalibr missile launcher was fired at a coastal target, on November 30, Onyx was launched at a sea target.
It is noted that the submarine entered the next stage of state tests at the end of last week. On board the nuclear submarine there is a regular crew and a delivery team. According to the plans of the Ministry of Defense, the tests should be completed by the end of the year. As stated in the military department, in the absence of comments from the submariners, the submarine can become part of the Navy "under the herringbone" or early next year.
The Kazan submarine, the first multipurpose nuclear submarine of the improved 885M project (Yasen-M), was launched on 31 on March 2017 of the year. Compared to the 885 Ash project, the new submarine received many improvements and new systems that have not been used on submarines before. The Yasen-M project submarines have a displacement of 13800 tons, a depth of immersion of 520 meters, a crew of 64 people, autonomy of 100 days, underwater speed - 31 knot, armed with mines, 533 torpedoes, millimeters, Caliber and Onyx cruise missiles.