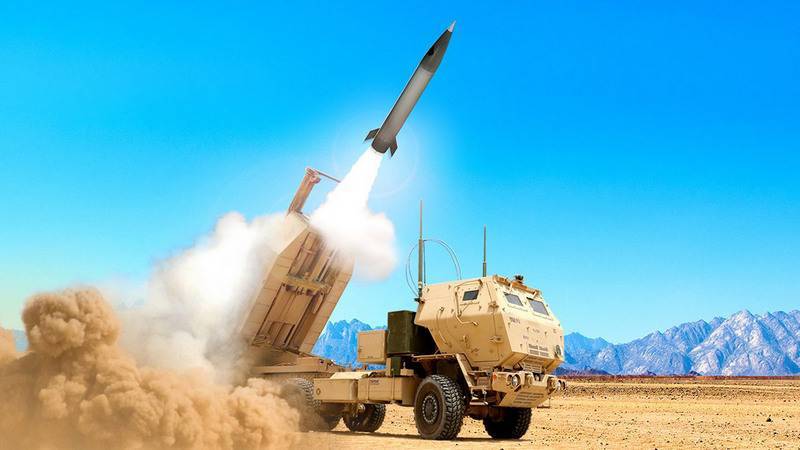 A video of the tests of the latest promising operational-tactical missile under the Precision Strike Missile (PrSM) program has appeared on the Web. The video, created using computer graphics, was posted on its official YouTube channel by the American corporation Lockheed Martin.
In a new video, the corporation shows how, with the help of the latest operational-tactical missiles PrSM, launched from the M142 launcher of the HIMARS missile system, the equipment of the Russian S-400 anti-aircraft system, located in urban conditions on the territory of some Middle Eastern or African country, is destroyed, judging by palm trees.
Missile guidance at the Russian complex is carried out by American fifth-generation F-35 fighters. Judging by the video, the Russian air defense missile system "point-blank" does not see either fighters or launched missiles, so the latest American ammunition destroys the complex without hindrance.
In 2019, the United States announced that it had developed a surface-to-surface missile capable of "easily" penetrating the Russian air defense system. This statement was made by American General John Rafferty, commenting on the first tests of the Precision Strike Missile (PrSM) tactical missile. According to the general, the missile developed by Lockheed Martin was primarily designed to overcome Russian air defenses in the European theater of operations. In the Asia-Pacific region, this missile will be used to destroy Chinese warships.
The Precision Strike Missile (PrSM) program, launched in 2017, involves the creation of a new generation of high-precision operational-tactical missiles with the official initially declared range from 60 to 499 km, but the development was carried out taking into account the US exit from the INF Treaty. According to reports, the rocket is already capable of flying at 550 km, and according to other sources - up to 700-750 km.
In the future, the new missile should replace the Lockheed Martin MGM-140 ATACMS tactical missiles. Serial production is planned for the 2023 year.