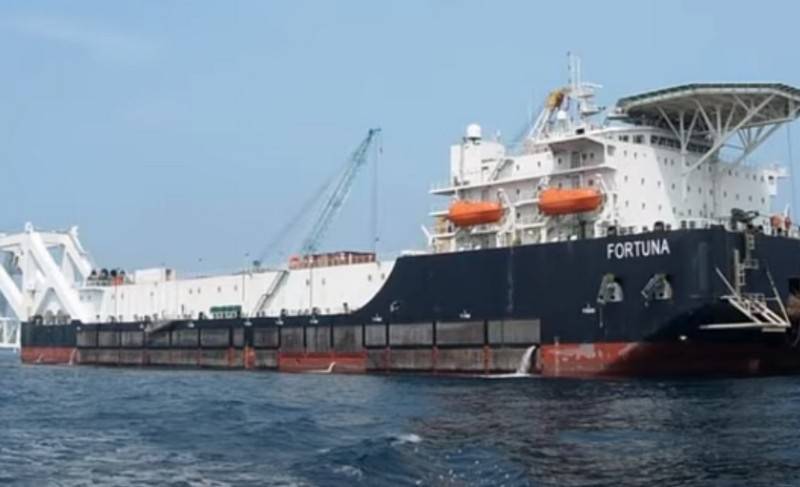 Russia continues to withdraw from the planned US sanctions against Nord Stream 2 ships that may complete the construction of the gas pipeline. The pipe-laying barge Fortuna, which has already begun laying pipes, reportedly changed its owner again.
According to an entry in the Russian International Register of Vessels (RMRS), the pipe-laying barge Fortuna was transferred from one Russian micro-enterprise to another. The new owner of the vessel is now KBT-Rus LLC with one employee in the state, which bought the barge from Universal Transport Group LLC, which, in turn, purchased the vessel from the Hong Kong Strategic Mileage in early October 2020.
According to the media, the new change of ownership occurred against the background of a possible tightening of sanctions against the Nord Stream 2 gas pipeline, agreed by the US Congress.
Fortuna is currently located east of the German island of Rügen in the Baltic Sea, where it is laying pipes on the 2,6 km long German section of the gas pipeline. Work in the exclusive economic zone of Germany may continue until December 31.
To date, the question remains open with the completion of a section of the gas pipeline in Danish waters with a length of about 150 km. Nord Stream 2 AG, the operator of the gas pipeline, said that further construction work on the offshore section will be announced later.
Earlier, the United States stressed that Russia has no chance of implementing the Nord Stream 2 project despite the resumption of its construction. According to a senior White House official, the Russian gas pipeline will not be completed and will never supply Russian gas to Europe.