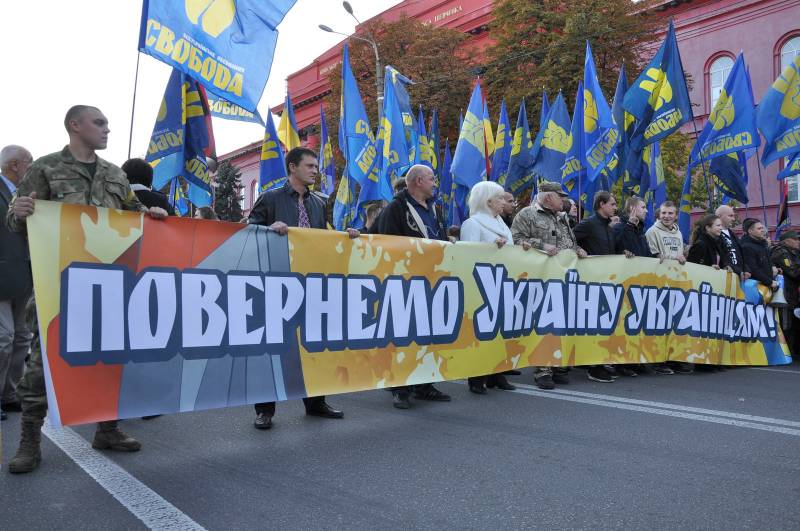 Crying in Ukraine
One of the most annoying refrains of modern Russian politics outside the officialdom is undoubtedly crying:
"We have lost Ukraine !!!"
And this groan comes from a variety of lips. The patriots are suffering, the fans of the USSR are tormented, and how the liberals are suffering! But have we really lost anything?
It is quite obvious that there is no point in discussing the topic in its literal reading. You can only lose what you owned or at least used. Needless to say, neither one nor the other has ever been applied to Russian-Ukrainian relations.
So we will talk about the loss of the great Russian-Ukrainian friendship declared by the mourners. And then I will try to answer a rather simple but highly politicized question:
"Was Ukraine a friendly country to us before the well-known events of 2014?"
In the depiction of suffering from lost love, until 2014, the Ukrainian government pursued at least a policy loyal to the Russian Federation, did not seek NATO membership and did not discriminate against Russian and Russian-speaking citizens. But is it?
Let's take our emotions aside and look at the facts. And the facts tell us the following - almost immediately after its inception, the Ukrainian state began to pursue an openly unfriendly policy towards Russia and the Russians. Why?
The Ukrainian political and economic elite initially had only one goal - to plunder Ukraine on their own. They categorically did not want to let strangers into this field. But Western capital did not rush to the homeland of the ancient Ukrainian people, and the purchase of Kryvorizhstal by ArchelorMittal was almost the only example of this kind. And even then, it happened only as a result of the struggle between the Ukrainian groups themselves.
But Russian capital was looking at Ukraine with great interest. And since the Moscow oligarchs were not inferior to the local ones in terms of depravity, and clearly outnumbered the local ones in terms of the amount of money, they were viewed as dangerous competitors. It is not surprising that a collective decision very quickly matured to protect their plot from colleagues because of the "curb" and to share everything ourselves. That, of course, did not exclude the desire to crawl into the pocket of any gape "partner". As one Kiev observer noted back in the late 90s:
"Pro-Russian politicians in Ukraine steal from Russian gas, and pro-Western politicians from Western loans."
Well, it would be more correct to say that they were neither pro-Russian, nor pro-Western politicians, because they were quite ready to drag both there and there. And the burglar who surrounded your apartment does not become your friend. In reality, these "friends" were looking for a reliable "cover" and almost immediately saw it in the West in general and in NATO membership in particular.
However, it was necessary to present something to the people, and the idea of ​​plundering the country by a narrow group of people was clearly not sold to the masses. The newborn state needed the meaning and purpose of its existence. The predatory elites were clearly unable to generate at least some kind of national idea, and the slogans popular during perestroika about the transformation of Ukraine into a second France very soon became simply ridiculous. And then they easily found a ready-made concept in the form of Western Ukrainian nationalism.
Muscovites
This nationalism, in fact, did not disappear anywhere even in Soviet times, only its carriers temporarily moved from caches to Lviv kitchens. And it was originally born as an ideology of flawed people looking to blame for their troubles. Naturally, the "curses of the Muscovites" were to blame. They stubbornly repeated about wonderful Ukrainians, bearers of all conceivable virtues, who were enslaved by evil savages, and not even Slavs, but some kind of Untermensch. And, of course, they deprived Ukrainians of a great European future.
And what was previously discussed in whispers in the kitchens has now spilled over into the masses. I remember very well what shock I once experienced when I learned that the fans of Dynamo Kiev were yelling in the stands back in 1989:
"Death to the Muscovites!"
Well, in the Square it has become quite a norm. Since any positive idea in the conditions of Ukraine instantly turned into absurdity, the ideologists of the Bandera movement could only fan the degree of hatred. But they themselves more than willingly moved along this path, and not without material benefit for themselves. The myth about the Ukrainians oppressed by Muscovites began to be broadcast, correspond
история
and from a marginal trend, nationalism quickly became the Ukrainian mainstream.
I will not retell this ideology, those interested can easily find detailed content on the Internet. I will only add that Ukrainian nationalism began to slip very quickly into Nazism, only Muscovites and the notorious "cotton wool", which is certainly below the Svidomo and cicavian Ukrainian, took the place of Jews here.
Of course, in the comments they will point out to me that it is not worth measuring the attitude of Ukrainians towards Russia by rabid nationalists. I will even be given figures showing how few voters vote for obvious Bandera supporters. But the whole world history clearly shows that society is governed not by a passive, amorphous majority, but by a well-organized, aggressive minority.
What percentage of the total population were Jacobins or Bolsheviks? Obviously insignificant. But this did not prevent them from establishing their dictatorship, suppressing much more numerous, but scattered enemies, and subjugating the masses. And the Germans in the 30s did not at all suddenly become a society of fans of the Führer: there were always not so many convinced Nazis there, but they forced everyone to march on their orders. And yes, even in the late 20s, the Nazi party had very miserable election results. But then things changed very quickly.
And now we clearly see how the Nazis in Ukraine feel confident and with impunity. They get away with it. Burn people in Odessa? Easy. Kill an unwanted writer or journalist? Even easier. Kill a man in broad daylight? Yes, easily. And no one is responsible for this, because they are strong. But not only on their own, but also with those behind their backs, providing cover and funding. And then there will still be ...
Most people are just philistines and solve their everyday problems. Politics takes them very little. And there is nothing wrong with that. After all, someone has to plow the land, sell SIM cards and improve the country's demography? But, in principle, they are not able to seriously influence the situation and can only arrange a senseless riot or a completely meaningful robbery of supermarkets. But neither one nor the other really leads nowhere.
Ukry to NATO
The masses can only become a force in the capacity of ... a crowd, guided by a well-organized minority. In 2008, someone V. Karasev, at that time an adviser to Yushchenko, spoke simply and unpretentiously on this topic:
"Ukraine's accession to NATO will in no way depend on the opinion of the population - as soon as the country's largest parties resolve all their differences, integration into the alliance will be ensured.
Perhaps someone will be surprised, but the Ukrainian authorities showed their official desire to join the North Atlantic Alliance in the first half of the 90s. They supported the expansion of the bloc to the East, strengthened cooperation, and prevented the delivery of Russian goods to Yugoslavia.
And in 2002, the supposedly pro-Russian President Kuchma signed a directive aimed at Ukraine joining NATO. And the allegedly pro-Russian Yanukovych, who was Kuchma's prime minister, spoke importantly about the country's Euro-Atlantic prospects, even when his boss preferred to turn back a little.
There is no need to talk about the politics of Mr. Yushchenko, and everything is clear. But when Yanukovych won the election, the Kremlin cheered. It's hard to believe that such naive people are sitting there, but this rogue was clearly betting on. And in 2010, the Kharkiv agreements were concluded on the stationing of the Russian Black Sea Fleet in Sevastopol until 2042 in exchange for significant financial preferences.
But the holiday did not last long. Further, the client developed cooperation with NATO even better than his anti-Russian predecessor. In Moscow, they were indignant and reproached the partner for inconsistency. But he was just very consistent! I got what I wanted from Russia. And he moved to feed on another plot. And the same story would certainly have taken place in 2014, only Yanukovych did not have time to play this trick again ...
conclusions
So what do we have in the bottom line?
Ukraine emerged as an anti-Russian and anti-Russian project and, in principle, could not be otherwise
.
Otherwise, the question would arise:
"Why is it needed at all, at least within the boundaries of 1991?"
Unable to show any real achievements, representatives of the local elite began to exploit nationalism and oppose themselves to the evil "Muscovy". Ukrainian oligarchs have merged with nationalists in a common goal of separating Ukrainians from Russia as much as possible.
And no serious pro-Russian party could arise here, there was simply no demand for it from the ruling class. Although some were not averse to beckoning voters from the South-East with a carrot. But, once in power, they immediately forgot about their promises.
I cannot say that the policy of the Russian Federation in the Ukrainian direction inspires me. She seems completely ill-considered. As, incidentally, our entire foreign policy in general. But I, of course, judge superficially. And, perhaps, the Kremlin was driven into too narrow limits of possibilities. After all, the Western "partners" did not sit idly by.
But in any case, the result would have been the same - an openly hostile state would loom on our borders. And so ... Crimea, at least ours. It is not hard to guess that if that operation had not happened, the Maidan leadership would have long since survived from Sevastopol. The Black Sea Fleet. NATO membership would become a reality. And forced Ukrainization was previously among the priorities of the Ukrainian government ...
What did we lose then?
A friendly country? But Ukraine has never been Ukraine, only milked Russia, using the phantom pains of the Kremlin leadership.
The sympathy of the local public? Yes, please, she has always been hostile to us.
Or maybe the friendly disposition of an ordinary Ukrainian? Well, it is likely that some of these conventional citizens really began to have a negative attitude towards Russia. But what does it matter to us? The layman there never decided anything, and from his opinion we are neither hot nor cold.
И
we lost not only what we never had, but what never had any real meaning
.
Well, if your Ukrainian relatives hate you for political reasons, then this is exactly the loss that you should not regret.