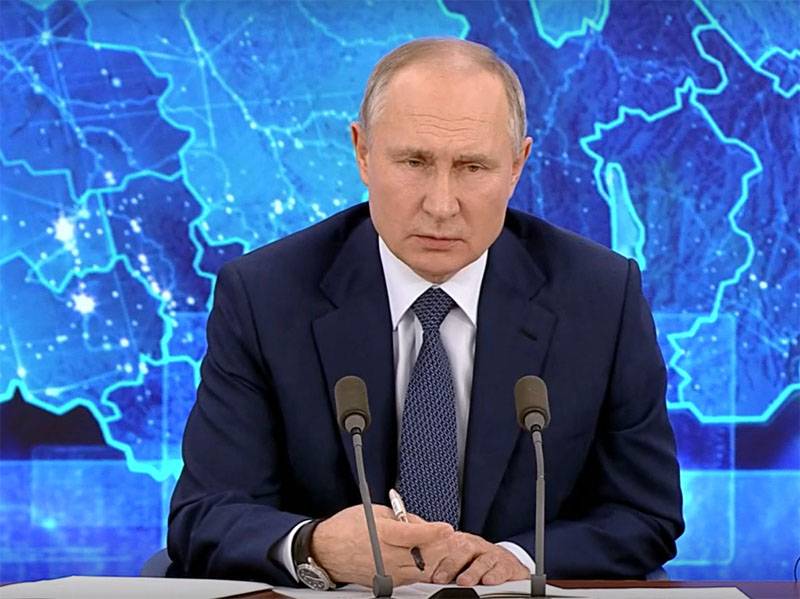 Vladimir Putin answered the question of a Western journalist, in which he fit all foreign "horror stories" about Russia. This is the "poisoning" of Navalny, and the "annexation" of Crimea, and the "militarism" of Russia "threatening the world." British journalist: "Or do you think you are white and fluffy?"
Vladimir Putin was clearly touched by this question, which may well be called arrogant. The head of state noted that if we compare Russia with the same West, then our country is really "white and fluffy".
Vladimir Putin:
Crimea became part of Russia on the basis of a referendum, unlike Kosovo. The parliament made a decision there, and you said that everything is fine, everything is as it should be. Our people came and voted, but you don't like it. So tell me, if this is, as you say, annexation, why did you impose sanctions against Crimeans? What are they guilty of? And if this is not annexation, then it's time for you to admit that Crimea became part of the Russian state on the basis of a democratic procedure. If you don't think so, then it's time to stop and use the term about democracy.
According to Vladimir Putin, Russia has three bases abroad, and in terroristically dangerous areas - Kyrgyzstan, Tajikistan and Syria, and the United States has bases around the world. Russia has a military budget of $ 46 billion, while the United States has $ 770 billion.
Putin:
Didn't you give us promises that NATO will not expand? Yes, it was a verbal promise, but nonetheless. NATO has expanded at least twice, moving closer to Russia's borders.
According to Putin, the Russian Federation cannot but react to this. The head of state recalled that it was not Russia withdrew from the ABM Treaty, it was not Russia with the INF Treaty, it was not Russia that withdrew from the Open Skies Treaty.
Vladimir Putin:
Look, you're smart. Why do you think that we are idiots here and cannot analyze basic things. So you will fly over us here and transmit information to the Americans, but we will not be able to fly over the USA.
The Russian President added that if the United States also rejects the proposal to extend the START III treaty for a year, then there will be no documents stabilizing the world at all, and there will be no restrictions for a new arms race.
Putin:
I will say with the words of Leopold the cat from our cartoon: "Guys! Let's live in peace".