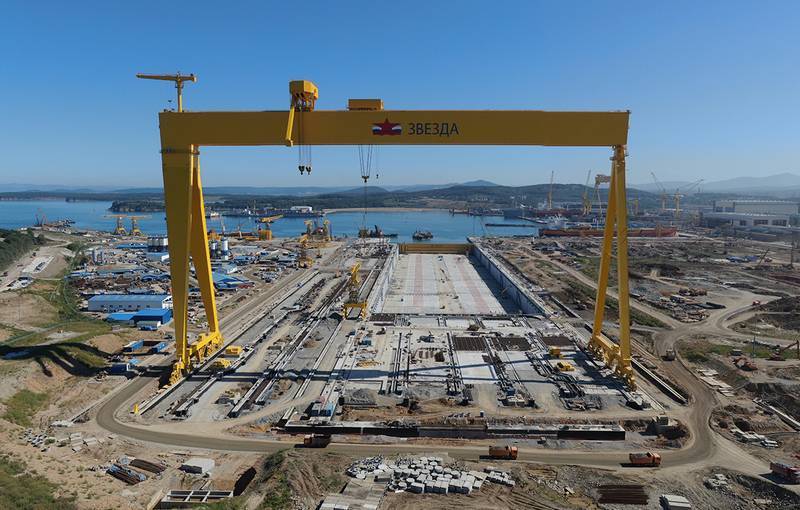 Far East shipbuilding complex "Zvezda" in Bolshoy Kamen received a license to build nuclear-powered ships. This is stated in the message of the press service of Rosneft.
As the company explained, this license is required for the construction of Project 10510 Leader nuclear icebreakers.
The Zvezda shipbuilding complex received a license to build nuclear-powered ships in accordance with the norms in force in the Russian Federation. The shipyard has successfully passed the checks of the Interregional Territorial Administration for Siberia and the Far East of the Federal Service for Environmental, Technological and Nuclear Supervision
- said in a statement.
Cutting of steel at SSK Zvezda for the construction of the lead nuclear-powered icebreaker of the Leader project, named "Russia", began in July 2020. In total, it is planned to build three icebreakers of the new project. For the construction of the first, funds from the budget have already been allocated.
Icebreakers "Leader" will be designed for year-round pilotage of large-tonnage cargo ships along the Northern Sea Route.
According to the project, the total displacement of the new icebreakers will be 71,4 thousand tons with a length of 209 meters, a width of 47,7 meters and a height of 20,3 meters. The ship will receive two RITM-400 nuclear reactors with a capacity of 120 megawatts on propellers and a thermal capacity of 315 megawatts each.
As the developers of the project from the St. Petersburg Iceberg Central Design Bureau stated, the Leader icebreaker will be able to reach speeds of up to 24 knots in clean water and up to 12 knots on ice up to 2 meters thick. The maximum overcome ice thickness is 4 meters. The service life of such an icebreaker is designed for 40 years. The crew is 127 people. The autonomy of the icebreaker in terms of provisions will be 8 months.