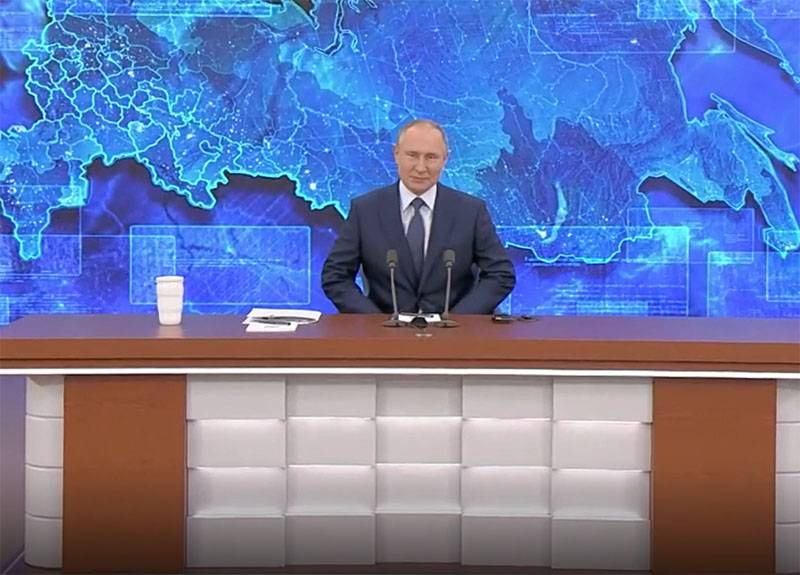 The 16th press conference of Russian President Vladimir Putin has begun. This year, she combines a classic press conference with questions from journalists with a straight line, in which the president usually answers questions from ordinary citizens.
The President noted that the press conference (direct line) is also held with the aim of having direct contact with citizens, which would make it possible to resolve issues of concern to Russians.
Putin:
For me, this straight line is not something formal. There is nothing more valuable than direct communication with citizens, discussion of what we live and what we can do to live better.
The first question came from the Vladivostok studio - from a journalist from Magadan. The first question can hardly be called specific and topical:
Was the year a bad year, or was there something good?
Putin noted that this is like discussing the weather: is it good or bad.
The president moved on to more specific things: about a drop in income, about job cuts, about a drop in production.
Putin:
Sea problems. But this sea, this ocean, it is everywhere. Spilled all over the world. But we are getting through it better than in many other countries of the world. Fall of GDP - 3,6%. This is less than in the EU than in the US. Industrial production fell by 3 percent, due to oil, from the OPEC + deal. But it is pleasant that by November the manufacturing industry has already given growth - 1,1%. Agricultural production - plus 1,8%, and as a result, as the minister said, plus 2% is expected. The banks' profit is estimated at 1,3 trillion rubles. The real salary, I ask citizens not to be angry with me, I hope will increase by 1,5%, but with a fall in the real income of the population. This is a drop of about 3 percent. The unemployment rate is 6,3%. Our national debt fell by $ 10 billion, and international reserves grew by December 4 to $ 587 billion. The NWF today is 13,5 trillion rubles.
The President drew attention to a positive element: 70% of the Russian budget is not formed at the expense of oil and gas:
We are starting to get off the "oil needle". Or whoever likes to call us a "gas station" is no longer the case.