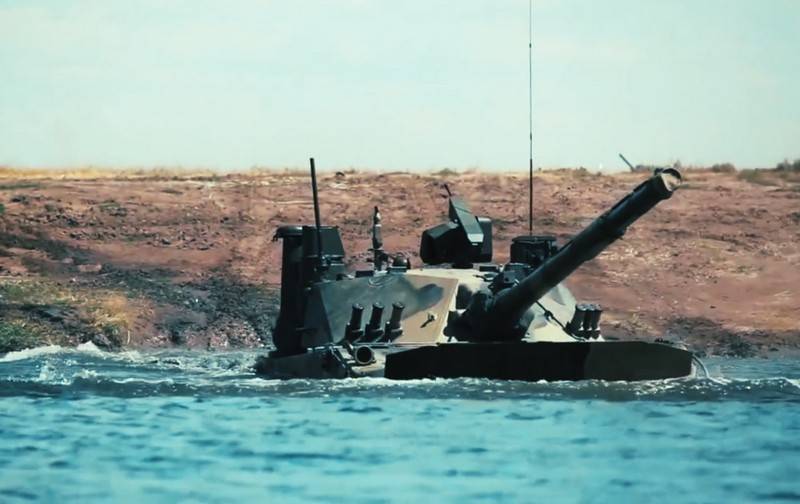 Light amphibious tank "Sprut-SDM1" in the course of state tests has demonstrated high navigability and reliability afloat. Equipment tests were carried out in the Black Sea. The press service of Rostec reports.
The next stage of state tests of a light floating
tank
"Sprut-SDM1" was held in the Black Sea and was recognized as a success. The machine showed the ability to overcome water obstacles in rough seas of up to 3 balls, to carry out targeted shooting afloat and easily go to an unprepared shore.
In addition, the new aircraft for the Airborne Forces was tested in central Russia and in the subtropics, where the temperature reached +40, confirming the characteristics laid down in it. The next stage of state tests, which will begin at the beginning of next year, will be testing "Sprut-SDM1" in low temperatures.
State tests of the Sprut-SDM1 light amphibious tank intended for the Airborne Forces began in August 2020 and will last a year and a half. According to the results of state tests, design documentation will be approved with the assignment of the letter "O1", which will allow the start of serial production. Earlier it was reported that the Ministry of Defense had already made a decision on the adoption of "Sprut-SDM1" into service.
The Russian combat vehicle Sprut-SDM1 "is armed with a 125-mm cannon, a 7,62-mm machine gun paired with it and a 7,62-mm machine gun mounted on a remote-controlled module. destroying enemy strongpoints and defensive structures, conducting military reconnaissance and outposts.