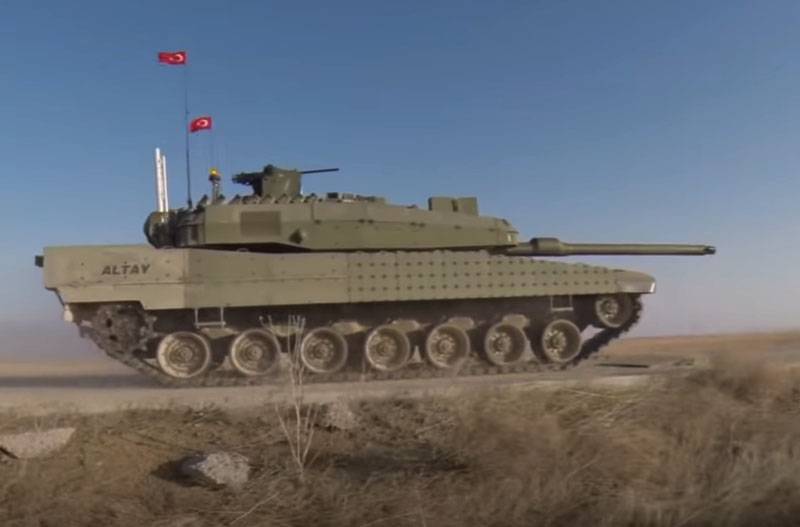 The consequences of the introduction of anti-Turkish sanctions are manifesting themselves. Recall that at first the embargo on the supply of arms and accessories to Turkey was introduced in a number of EU countries, as well as in Canada (at different times), and then the United States came out with sanctions against Ankara. Moreover, the arguments are different: for Europe, this is Turkey's policy in the eastern Mediterranean, in Syria against the Kurds and in Karabakh, and for the United States, the acquisition of S-400 systems from the Russian Federation and their testing.
A spokesman for Turkey's ruling Justice and Development Party said that Germany "thwarted its obligations to Ankara under the contract to establish
tanks
Altay ". According to him, the serial production of these tanks was postponed "due to the position of Germany."
Altay tanks are created in Turkey under the program of interaction with foreign suppliers of certain components. German companies, it is said, did not make deliveries on time and refuse to fulfill their obligations under the contract.
It should be recalled here that Germany has an embargo on Turkey
weapons
and components introduced back in 2017 and supports it to this day. Ankara said that due to the position of Germany, the start of mass production of Altay tanks is postponed by at least a year. However, Turkish military experts believe that in the current situation, 2021 is unlikely to be the year when Turkey will begin mass production of Altai.
The problems arose primarily due to the German MTU MT883 engines. They are simply not supplied from Germany, although the contract was signed for 250 power plants. To overcome this problem, Turkish companies began negotiations with South Korea, which could supply Ankara with its own engines. But whether Korea will agree to this after the sanctions against Turkey have already been imposed in the United States is a big question.
Attention is drawn to the fact that the contract for the supply of tank engines from Germany to Turkey contains the name of Omer Demir. And he is the son of Ismail Demir, head of the Defense Industry Directorate, against whom the United States imposed its sanctions. In this regard, it is stated that Altay tanks can only remain in the format of demonstration copies.
Presentation video about the Turkish tank "Altai" from 2016 (draws attention to the fact that 4 years ago they wrote about the alleged readiness of the tank for serial production):