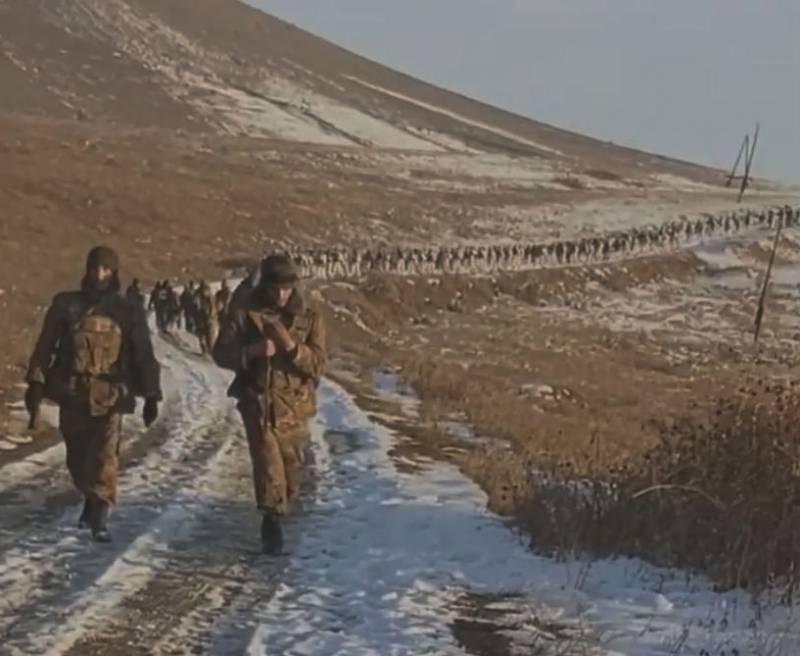 The Armenian Defense Ministry commented on the information about the withdrawal of Armenian servicemen from the villages of Khtsaberd and Khin Taher of the Hadrut region. We are talking about dozens of soldiers who were surrounded by Azerbaijan. Earlier, the Ministry of Defense of the unrecognized Nagorno-Karabakh Republic reported that communication with the posts in the area of ​​the mentioned settlements was lost, and at least a hundred servicemen were reported missing.
According to the statement of the Armenian defense department, the information about the withdrawal of military personnel from the encirclement corresponds to reality. The ministry says that this happened with the direct participation of the Russian peacekeeping contingent:
... and with the direct mediation of the commander of the Russian peacekeeping contingent, Lieutenant General Rustam Muradov.
Previously, the video was distributed and it was assumed that it was the very Armenian military who fell into the Azerbaijani encirclement.
It should be recalled that in Armenia some politicians have allegedly been encircled by the Russian peacekeepers. This information is refuted. It is thanks to the Russian peacekeepers that the missing Armenian servicemen were "found"; now there are no threats to their lives.
A few days earlier, the Armenian Prime Minister Nikol Pashinyan announced that the Azerbaijani military had occupied the village of Khin Takher, which contradicts the agreements that were reached on November 9.
A group of 60 people disappeared near the village of Khtsaberd, Hadrut region, Karabakh ombudsman Artak Beglaryan wrote.

In all likelihood, the servicemen of this particular unit were captured on a video published by the Azerbaijani military. pic.twitter.com/8rK3W8O8fm

- SwankyStas (@StasSwanky) December 16, 2020