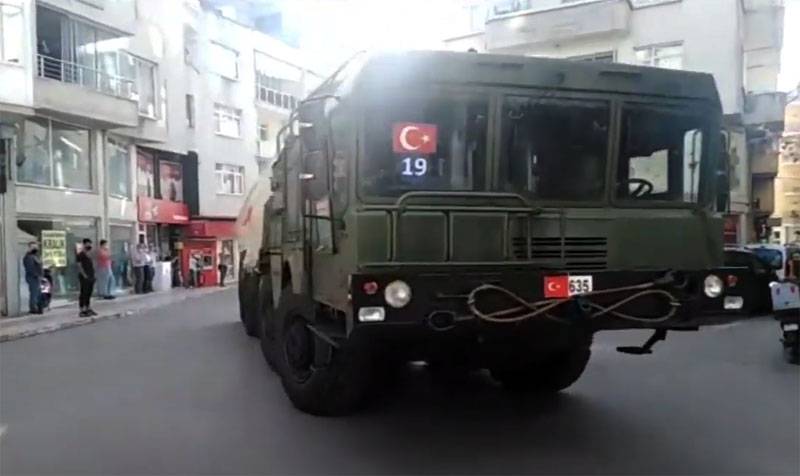 Complex S-400 in the Turkish town of Sinop
The Chinese press commented on the sanctions that the US decided to impose against Turkey for the acquisition of Russian S-400 Triumph air defense systems. Recall that among the sanctions is a ban on the supply
weapons
and components to Turkey, freezing the accounts of the Directorate of the Defense Industry and its leadership.
In this regard, the Chinese reporter Zhong Wei writes that the United States is already demonstrating to the whole world, including its own allies, its readiness to interact exclusively from a position of strength. The author notes that today only truly independent states can afford to conduct their own policies, be they economic or military.
They are already imposing sanctions even against their allies
According to the Chinese author, if a country is an ally of the United States, then now it cannot feel safe, it cannot act on the basis of its own interests, since Washington constantly intervenes and dictates its own terms.
According to Zhong Wei, it is difficult to imagine if the United States today tried to dictate its "rules for buying weapons" to China, which also bought Russian S-400 anti-aircraft missile systems. They threaten others with their CAATSA sanctions package.
In the meantime, a material is published in the Chinese Sohu in which a version is presented that, with its sanctions measures, the United States itself is pushing Turkey closer to Russia. It is indicated that now there is no way for Turkey to become the owner of the fifth generation F-35 fighter, in the creation of which she took a considerable part. In such a situation, Turkey will have to go for technological cooperation with other countries. By the way, Russia has already proposed a variant with a Turkish Su-57 fighter. The same case when Recep Erdogan at the aerospace show was already looking into the cockpit of the newest Russian combat aircraft.
Earlier in the Turkish press it was reported that Ankara is considering the possibility of banning the US Air Force from using the Incirlik air base, where American tactical nuclear weapons are also located, in response to US sanctions.