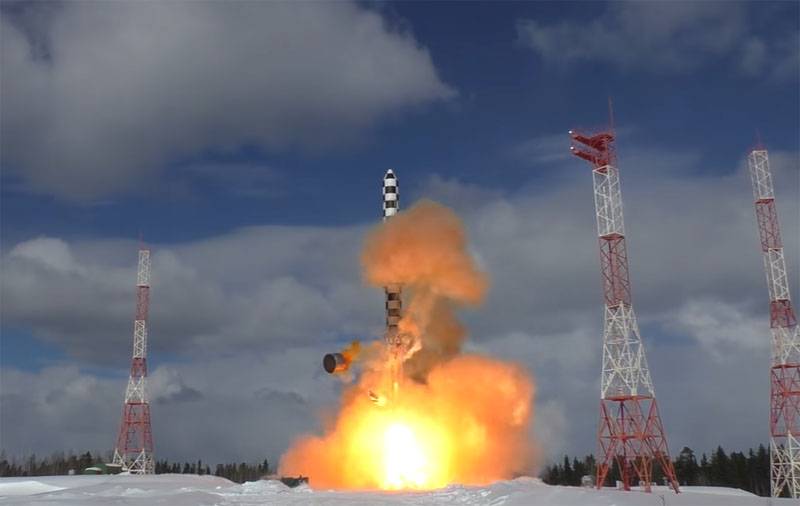 It became known when it is planned to put into service the Armed Forces of the Russian Federation a new-generation strategic missile system "Sarmat". The commander of the Strategic Missile Forces, General Sergei Karakaev, reports on the timing.
In an interview with a departmental publication
"A red star"
Sergei Karakaev said that one of the regiments of the Uzhur formation will receive the first Sarmat missile system. This event is planned to take place in 2022.
It should be noted that earlier (for example, in 2018), materials appeared in some publications that the promising missile system of the Russian Armed Forces will be put into service in 2021. However, those publications do not find their confirmation.
According to the commander of the Strategic Missile Forces, expressed for the aforementioned newspaper, the industrial cluster continues to "set readiness for state flight tests" of the Sarmat missile complex. At the same time, in the named Uzhur formation (Krasnoyarsk Territory), activities have already been launched to prepare for the rearmament of the first missile regiment on the "Sarmatians".
The missile (liquid-propellant ICBM) of the RS-28 "Sarmat" complex can be equipped with hypersonic missile units. At the same time, the missile is capable of carrying out an attack along trajectories that actually remain outside the coverage area of ​​existing missile defense systems. This may well be regarded as Russia's response to Russia's deployment by the United States of its missile defense system and to its unilateral withdrawal from a number of key international security treaties.