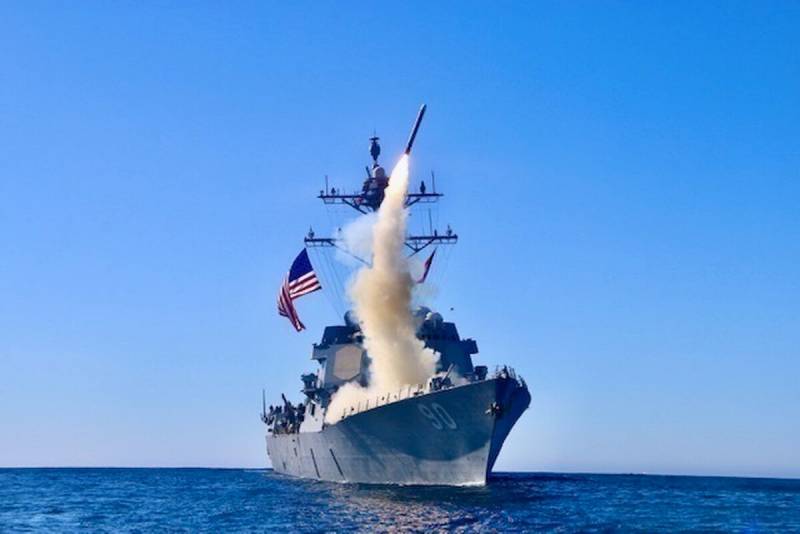 Tomahawk Block V launch
The US Navy in December this year conducted the first tests of the newest type of Tomahawk missiles, which were launched from the destroyer USS Chafee (DDG 90) in the Pacific waters.
The Tomahawk Block V is a completely new modification of the legendary sea-launched missile, which the Americans have been proud of for many years [...] The new version, with its subsonic speed, has a hidden advantage in the era of hypersonic missiles in China and Russia. Tomahawk Block V could be a real threat to enemy fleets on the high seas
- writes the Western press, commenting on
news
.
As stated in the Defense News pages, the new missile has a number of advantages. Firstly, in comparison with its predecessors, the range of destruction of Block V has increased significantly, amounting to 1600 km. The missile has increased striking power, greater penetration and a new guidance system that more accurately identifies targets.
Secondly, Block V is able to more effectively withstand external influences, as it is equipped with a more powerful electronic warfare system, which will make it difficult for the enemy to implement the task of hacking the missile control during its flight.
Third, "the advantage of the new Tomahawk is its subsonic speed," despite the fact that Russia and China have already entered the era of supersonic and hypersonic missiles.
The advantage of a subsonic missile in flight range
- says Brian Clarke, a retired submarine officer, pointing out that Block V's subsonic flight mode is fuel-efficient, so the range is "well beyond the officially declared 1000-mile radius."
To get this range on a supersonic missile, you need something much more.
Clarke suggests.
Fourthly, the rocket has a low price [according to press reports, the cost of Block V is $ 1 million, while analogues - $ 3,5 million per unit
weapons
].
The key ability of the new Tomahawk is cost
- says Jerry Hendrix, retired captain
fleet
.
According to expert Tom Karako, with the new missile, the fleet will bomb terrorist camps "without hesitation, only having received an order from the president."
However, a number of media outlets go even further, discussing the "advantages" of the new Tomahawk. Thus, the Bulgarian edition Bulgarian Military writes that due to their low cost, American ships and submarines will be able to double their arsenal of weapons. Apparently, as conceived by the authors, the number of launchers will increase spontaneously.