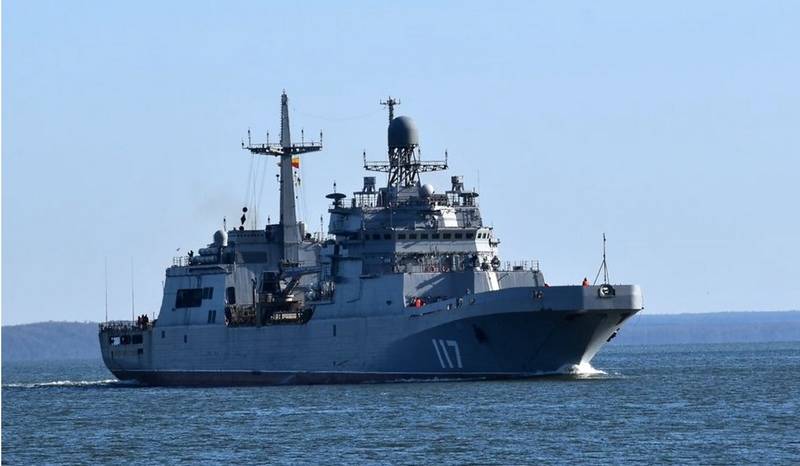 Project 11711 large landing ship (BDK) "Pyotr Morgunov" became part of the Naval
fleet
... The solemn ceremony of raising the Andreevsky flag took place in Baltiysk. This is reported by the Ministry of Defense.
The ceremony was attended by representatives of the command of the Russian Navy, the Baltic Fleet and the Baltic shipyard "Yantar". The first serial project 11711 large landing craft was handed over to the Navy and will go to serve in the Northern Fleet, where the lead ship of the series, the Ivan Gren large landing craft, is already in service.
The completion of the state tests of the BDK was announced in early November 2020. The ship returned to the shipyard, where it passed a control check and training before being transferred to the fleet.
BDK "Peter Morgunov" is the second ship of the project 11711 and the first serial after the lead BDK "Ivan Gren". Laid down in June 2015 and launched on May 25, 2018. The construction of the ship was carried out with delays, since it was necessary to correct the mistakes made in the design of the lead ship.
BDK 11711 is able to accommodate 13
tanks
or more than 30 armored personnel carriers and infantry fighting vehicles. The ship also provides for the deployment of a reinforced battalion of the Marine Corps, as well as the temporary basing of various types of ship helicopters. The ship has a cruising range of 4 thousand nautical miles, which allows you to perform tasks in the far sea zone.
At present, shipyard Yantar is building two Project 11711 ships - Vladimir Andreev and Vasily Trushin. Both BDKs are being built according to a modified project and will become part of the Pacific Fleet.