During the movement of units and subdivisions of the Red Army, water supply was carried out from those sources that were available in the area. It could be a city water supply system, it could be village wells, or it could be rivers, streams or lakes.
In the latter case, special importance was attached to sanitary control. Military hygienists had to determine the quality of the water, choose the methods of its purification and disinfection, and apply them in practice. Separately, it was necessary to work out the issues of supplying troops with water on the march, as well as during the defense of positions.
Water purification in the Red Army
First of all, water sources were examined for the presence of causative agents of dangerous diseases - tularemia, dysentery, typhoid fever. If there was a risk of water contamination, it was necessary to be especially careful with its disinfection. Moreover, under war conditions, any source of water has always been considered dubious. Boiling and chlorination of water was carried out without fail, and in places of long-term deployment of troops - centralized purification, as well as desalination in those places where there was only salt water, in accordance with the Instruction on desalination of water by freezing.
Where there were no wells with drinking water, the Red Army men dug them from scratch. For example, only during the battles for the liberation of the Kuban 29 wells were cut and 591 wells were dug.
How was drinking water disinfected? Potassium permanganate, hydrogen peroxide and a number of other compounds were commonly used, as well as substances that improve the taste of water after chlorination. In particular, citric acid and tartaric acid were added to the water with the addition of flavors available at that time. The Main Sanitary Directorate of the RKKA also developed special rules for supplying troops with water on the march, since it was established that a trained person loses from 2 to 3 kg of water during a long march. Naturally, it was required to recover the lost fluid. Additional wells were created using special metal barrels without a bottom, which were carefully guarded to avoid attempts at poisoning by the enemy.
During hostilities in winter, the Red Army was advised to use snow to obtain water, as well as to make ice holes in water bodies, and the ice holes were specially insulated by erecting huts above them, covering them with felt and straw. In some cases, pieces of ice were cut out, which were then thawed and the melt water was already consumed as drinking water.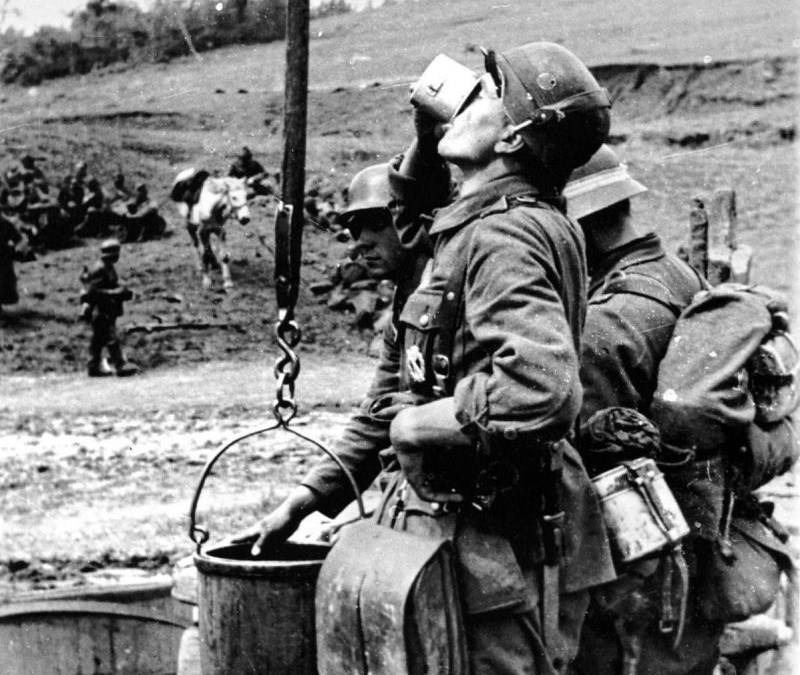 How did the Germans do
The German army has boiled water without fail since the First World War. But, of course, the Wehrmacht soldiers still could not wait for the water to boil and cool ...
Therefore, the German medical services organized the supply of each unit at the level of a company or battery with water disinfectants based on bleach and antichlorine (hydrogen peroxide and carbamide). To disinfect a liter of water, one tube of chlorine was poured, and after 10 minutes - one tube of antichlorine. Then the water was infused for a couple of minutes and became drinkable.
In the occupied territories, the enemy used drinking water from wells and water pipes. At the same time, for their part, the enemy units also tried to pay serious attention to the protection of water supply facilities so as not to lose drinking water.