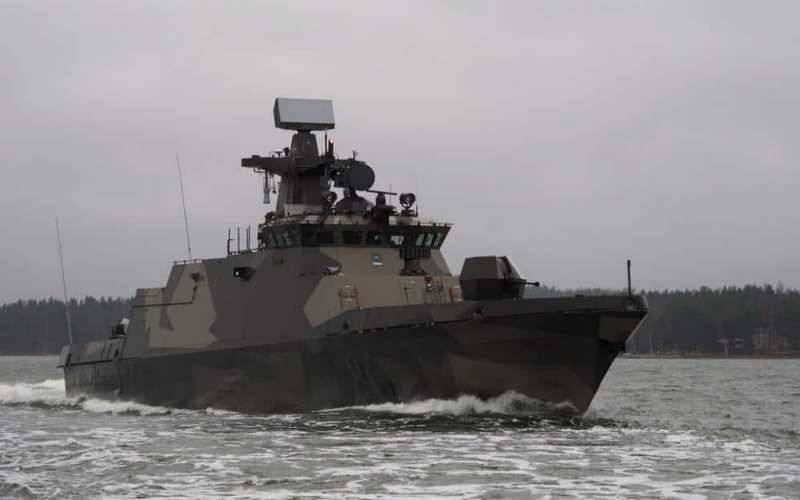 The Finnish naval forces received the second Hamina-class missile boat to be repaired and modernized. Two more boats of this type must undergo modernization by the end of 2021. It is reported by Naval News.
In the course of modernization, the emphasis is on the fight against enemy submarines, so the boats receive funds to combat submarines and new opportunities for defense. In particular, the Torpedsystem 47 (Tp 47) torpedo launchers developed by the Swedish Saab Dynamics and the ST2400 variable depth sonar from the Norwegian Kongsberg are being installed. Also, the boat is armed with a 40-mm shipborne artillery installation "Bofors-40" Mk.4. from BAE Systems.
Four Hamina-class missile boats form the core of the Finnish Navy. They are stationed at the naval base in Upinniemi, 15 kilometers southwest of Helsinki. The first modernized boat returned to the
fleet
at the beginning of this year.
The hull is made of aluminum, and the superstructure is made of reinforced composite carbon fiber. The shape of the vessel was designed specifically to reduce radar visibility. Metal parts are covered with absorbent material.
The boats are armed with four container launchers of MTO-85M anti-ship missiles with a firing range of 150 km. Also, initially, the boat's armament includes a 57-mm gun mount of the Bofors company, a vertical launch installation for eight Umkonto short-range anti-aircraft missiles by the South African Denel company, as well as two 12,7-mm machine guns. The solution of anti-sabotage tasks is provided by the Elma nine-barreled grenade launcher.
The radio-electronic equipment includes a TRS-3D / I6-ES three-coordinate detection and tracking system for airborne and surface targets (maximum detection range of air targets 90 km), as well as a Zeros 200 firing system with radar, television, thermal imaging stations and a laser rangefinder. The boat is also equipped with a podkilnaya and lowered hydroacoustic stations.
Processing data from the specified radio equipment or external sources, and issuing target designation systems
weapons
implemented using the automated control system ANCS-2000.